Sumvision shinks the iPod Touch... sort of
Ice, ice, baby...
Portable Media Player (PMP) manufacturer Sumvision has designed an iPod Touch-type player that likewise provides a host of multimedia features, but in a smaller shell and for a more pocketable price.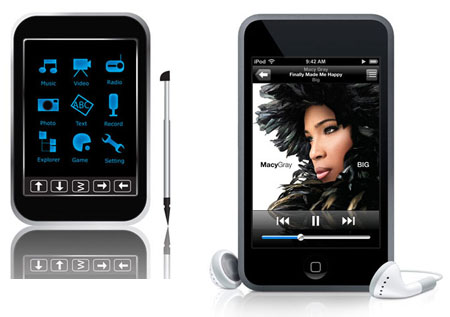 Sumvision's Ice 1000 (left) is almost identical to the Touch, except smaller
The Ice 1000, which measures 90 x 55 x 12mm, has a 2.8in, 240 x 320 TFT touchscreen. Its stainless steel casing makes it look just like an iPod Touch that's been caught between a lift's doors.
It costs just £60 (€85/$120), for which price you get 4GB of internal Flash memory and a Micro SD slot that supports cards of up to 2GB. JPEG images can be loaded onto the player and you'll be able to view, but not edit, text files. Games are included too.
In addition to supporting a range of music formats, such as MP3 and WMA, the player also enables playback of MP4 (Xvid) video content. You'll be able to set your audio preferences according to your musical tastes, including rock, pop and jazz – "nice".
Sumvision claims users will get about ten hours of continuous audio juice from the player, provided the screen's off, and around four hours when watching videos or playing games.
The Ice 1000 is available now from online retailer Advanced MP3 players.