Paleontologists unearth Mexican trumpet-playing hadrosaur
The Louis Armstrong of the late Cretaceous?
Researchers led by the Utah Museum of Natural History at the University of Utah have unearthed a new species of dinosaur - a massive plant-eater belonging to the hadrosaur group of plant-eating duck-billed dinos, which may have had the ability to bang out a tune using a fan-shaped bony crest on its skull.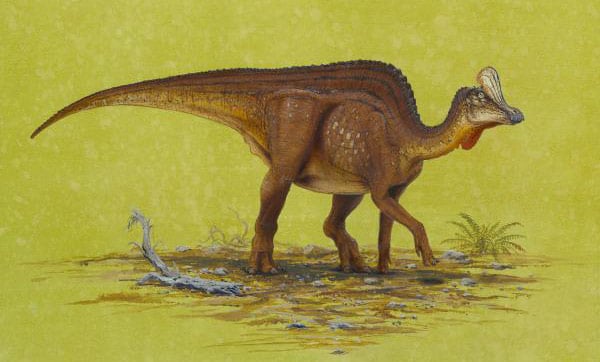 The 72-million-year-old specimen, dubbed Velafrons coahuilensis, turned up in the Cerro del Pueblo Formation at Coahuila, on the coast of north-central Mexico. Hadrosaurs were common in the late Cretaceous period, but Velafrons is the first of the type to be unearthed in this part of north America.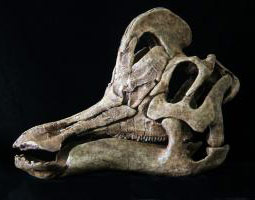 The species is also notable for its complex breathing system, which required air to pass "through a series of passages from the snout, into their crest, and finally inserting through a hole above their eyes", as the University of Utah press release explains.
Quite what the crest was for remains a mystery, but "a leading hypothesis suggests mate attraction, which explains the complex nasal passages as a possible musical instrument".
The Velafrons coahuilensis specimen was apparently not fully grown at the time of its death, and its 25-ft length suggests adult proportions in the region of 30 to 35 feet from snout to tail. It may have been a victim of "monstrous storms" which lashed the then-humid Cretaceous coastline, "devastating miles of fertile coastline, apparently killing off entire herds of dinosaurs", according to Utah Museum of Natural History paleontologist Scott Sampson.
That Velafrons was recovered from deposits where researchers identified "large bonebeds of jumbled duck-bill and horned dinosaur skeletons", indicates that it and its fellow dinosaurs did indeed suffer some inclement weather.
Recent expeditions to the Cerro del Pueblo Formation have also yielded remains of a second kind of duck-bill dinosaur, as well as a plant-eating horned beast boasting "a massive horn over each eye and a long bony frill projecting rearward".
Previous finds include remains of large and small carnivores, including "large tyrannosaurs (though smaller, older relatives of T. rex), and more diminutive Velociraptor-like predators armed with sickle-claws on their feet".
The researchers' latest discoveries are described in the Journal of Vertebrate Paleontology. ®