Email pen concept does away with keyboards
Note to self...
A designer has put pen to paper and created a concept fountain pen that allows users to write and send emails directly from a sheet of A4.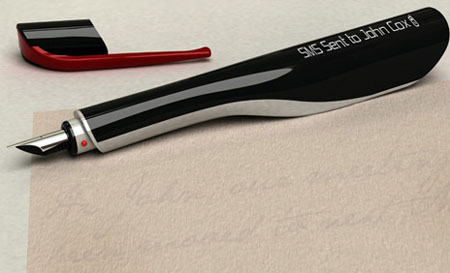 Reuben Png's D:Scribe email pen
Aside from fulfilling all your standard writing requirements, the D:Scribe pen's designer Reuben Png also envisages it being able to recognise and capture text and drawings. Users would be able to capture and then transmit their poetry or masterpiece drawings over Bluetooth, simply by writing the recipient's name and then circling it.
The idea is that the data's then sent to your mobile phone, from where users can choose how to pass it on, such as in email or text message format. An OLED display built into the pen also helps you keep track of the message's progress, after you've clicked on send.
One potential hurdle is character recognition, and anyone who remembers Apple's Newton MessagePad will know how problematic that can sometimes be. The pen's storage capacity isn't known, but let's not forget that this pen is still a concept design.