Google won't support you - Symbian
Not paranoid about Android
Caravan World Congress Google Android phones aren't even on vapourware yet, but already Symbian is already welcoming the challenge.
We asked Symbian executives how they propose to fight a free, or even an ad-subsidized, OS rival from Google. It's a question everyone's asking of vendors who go to market with an OS that costs real folding stuff.
EVP of marketing Jorgen Behrens replied that integrating an OS into a consumer product was costly, and that Symbian's integration costs were lower than rivals. He also questioned if Google would be there when trouble struck.
"I remember sitting in a room with NTT DoCoMo and for three hours they gave us a very difficult time over a bug in the kernel. I can't imagine Google sitting in that room," he said.
Behrens is picking up on Google's reputation for hands-on support. Or complete lack of it. That's something familiar to anyone who's had a complaint with Adsense, or sufferers of Google's GMail. An automated email response is the best one can hope for.
But he may be being harsh; we've tracked down Google's 24x7 crack systems integration and help expert on the Android project. He exists, and here he is: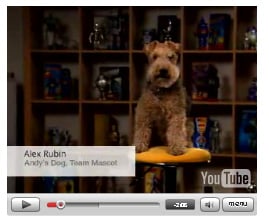 Here to fix your kernel bugs? Google support dog "Alex" Rubin
Smartphones in numbers
Executives were speaking on the day Symbian released its financial results. As a private company, it's not obliged to so, but does anyway. Really to show off, as much as anything else.
The unaudited figures show that Symbian OS was in 22.4m phones in the final quarter of 2007, up from 14.6m a year ago, and 20.4m in Q3. The company booked £56.5m of turnover, of which £52.7m comes from royalties. 77.3m Symbian phones shipped last year, giving Symbian revenue of £194.3m for the full year. The average royalty per unit was $4.30, down from $5.10 a year ago, reflecting Symbian's new lower royalty rate for high volume phones.
MD Nigel Clifford said there was no point Symbian creaming a profit when it could lower the cost and try and grow the market. Of course, we don't know how much profit Symbian makes at the end of the day, because it doesn't release the figures. The company now employs over 1,400 staff, including a development office in China.
(Symbian says it's stealing market share from Linux in both China and Japan. The US is the only geographic region where Symbian phones don't dominate the smartphone segment.)
According to Clifford, China surpassed the USA in smartphones last year. Which in the year of the iPhone gives you some idea of the opportunities, here. ®
Sponsored: Becoming a Pragmatic Security Leader