Europe hails foothold in space
Columbus lab finally clamped to ISS
Europe finally gained its long-awaited foothold in space yesterday when astronauts attached the Columbus laboratory to the International Space Station, Reuters reports.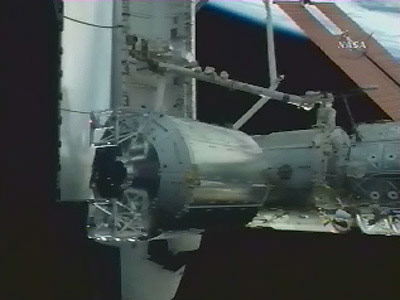 The $1.9 billion, ten-tonne cylinder (in pic, centre) took off aboard space shuttle Atlantis last Thursday following years of delays to its original 2002 delivery date, inlcuding the grounding of the shuttle fleet following the 2003 Columbia disaster.
Atlantis itself was slated for a December launch, but suffered two aborted lift-offs due to faulty fuel tank sensors, later rather agreeably resolved with the help of a soldering iron.
In the end, Columbus's marriage to the ISS did not run exactly according to plan. NASA postponed installation for a day when German astronaut Hans Schlegel, slated to carry out an accompanying spacewalk, fell ill.
His place was taken by "space rookie" Stan Love working alongside lead spacewalker Rex Walheim, but a combination of Love's lack of training and a "struggle to attach a clasp for the robot arm" caused the extra-vehicular jaunt to drag on for almost eight hours, 90 minutes longer than scheduled.
In the end, though, French astronaut Léopold Eyharts was able to declare: "Houston, Munich, the European Columbus laboratory module is now part of the ISS."
European Space Agency space station manager Alan Thirkettle enthused: "Today has been a truly momentous step and a historic day for Europe. You might imagine we're rather happy and overjoyed. There were whoops and cheers."
Initial activation of Columbus is scheduled for today, kicking off with a cautious "partial ingress" at 14:50 CET (13:50 GMT) by Eyharts wearing protective glasses and a facemask, and "full ingress" at 20:55 CET (19:55 GMT).
Columbus boasts space for ten "International Standard Payload Racks" (ISPRs), roughly the size of a telephone kiosk, designed to "squeeze the maximum amount of research from the minimum of space", as the ESA blurb puts it.
At launch it carried five ISPRs, housing the Biolab, European Physiology Modules Facility, Fluid Science Laboratory, European Drawer Rack and European Transport Carrier. Further details are available on the ESA link above. ®