Archos advances PMP's storage capacity
More inside, but the same outside
Archos has beefed up the storage of its 405 portable media player (PMP), upping the model's capacity from 2GB to a whopping 30GB.
The 405, which was originally launched as a 2GB PMP last autumn, still has a 3.5in LCD display. There's no external memory card slot, so 30GB is your maximum, but a USB 2.0 port does mean data transfers should be a breeze.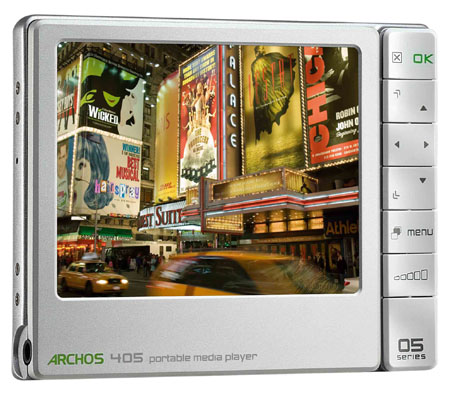 Archos' 405: now has 30GB of storage
The unit combines video playback with the capabilities of a portable Digital Video Recorder, which ensures it also has an integrated electronic program guide. This should mean you never miss your favourite shows whilst away from your larger set at home.
A built-in microphone allows you to give vocal commands to the 405, so if you want it to record dodgy late night shows then you'd better be careful who's listening. An integrated speaker allows you to watch and listen with others, or by yourself, but without the need to use the 3.5mm headphone jack.
It's compatible with a range of video and audio formats, such as MPEG 2 and AAC, respectively. You can also view several still image formats on the player, such as JPEG and BMP.
The Archos 405 30GB will be available later this month for around £150 (€195/$300).