Intel Skulltrail high-end gaming system
Intel's showcase gets Nvidia SLI and AMD CrossFire
Review Intel's old V8 gaming system used a chipset to support a pair of quad-core processors and a single PCI Express graphics card. Now the chip giant has added support for multiple graphics cards. The result: a new gaming board, Skulltrail.
Both V8 and Skulltrail use workstation motherboards that can take two quad-core Xeon processors. In the case of V8, it's an S5000XVN, while Skulltrail uses the new D5400XS board, but it's clear that the use of Xeon processors and FB-DIMM memory make these hardcore workstation products. Intel has added a sprinkling of marketing pixie dust to try and present these platforms as the "ultimate desktop system for PC enthusiasts", which covers "gaming, games developers and professional media creation". In fact, they're showcases for Intel's technology.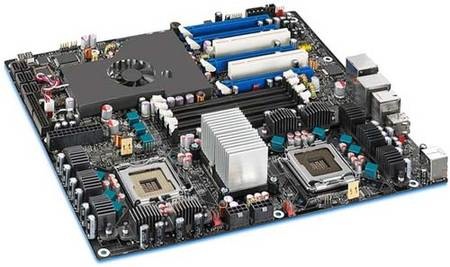 Intel's Skulltrail: silly name, impressive board
V8 added PCI Express graphics to a regular workstation motherboard but didn't do much else, so the board retained two 64-bit PCI slots and a serial port along with a rudimentary cooling system on the chipset and two thundering server heatsinks on the Xeons. Eight cores of Intel power delivered impressive performance - as you can see from our review.
Skulltrail is a major overhaul of V8, and the layout of the EATX board has been completely changed. Four of the FB-DIMM slots have been ditched to leave four slots with support for up to 8GB of DDR2-800 memory to support the pair of Xeons. The new Intel 5400B chipset supports a 1600MHz frontside bus (FSB) and our board was supplied with a pair of Xeon QX9775 processors which run at 3.2GHz. The QX9775 is an LGA771-interconnect version of the Core 2 Extreme QX9770 and apparently costs $1500 (£750) per processor. We understand that the D5400XS motherboard costs around $600 (£300) so when you add in £200 for 4GB of FB-DIMM memory, you've got a system that costs a scary amount of money.