Text-to-pee service launched
Seriously, spending a penny
Finland's residents now face being caught short during car trips if their phones are out of credit, because the country's road management agency has introduced an SMS entry system for public toilets.
Called the SMS Lock System, users must text "OPEN" to a number shown on the door of various toilets and shower rooms along Highway One in Paimio and Salo, near Turku, where the texting service began operating earlier this month.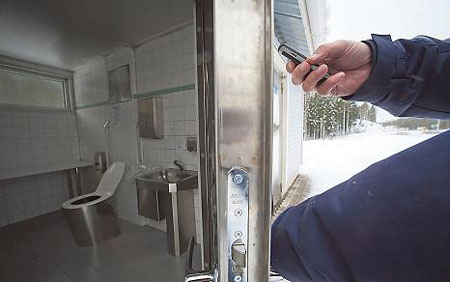 The SMS Lock System only lets avid texters have a pee
Hopefully without a long delay, the bursting user's text is directed to a modem that helps to deactivate the door's lock. Use of the service costs the same as a standard text message in the region.
The service, which is managed by the country's Road Administration (RA) and is thought to be the first of its kind, was introduced because of ongoing vandalism to public facilities. However, the RA believes that you're less likely to bash a bog or smash-up a shower if they have your time of entry and mobile phone number recorded.
This isn't the first time texting has been used for pee-related problems. Last year, London's Westminster Council launched its Sat Lav scheme, which allows mobile-equipped Londoners to locate the nearest public toilets by texting the word 'toilet' to 80097.
Sponsored: Becoming a Pragmatic Security Leader