Intel single-core 'Silverthorne' to sport HyperThreading
One-core UMPC chip acts like a Core 2 Duo
Intel has spilled a few more beans about 'Silverthorne', its upcoming 45nm processor for UMPCs and mobile internet devices (MIDs). It's a single-core part that implements HyperThreading (HT) ahead of the technology's implementation later this year in 'Nehalem' next-gen CPUs.
Silverthorne was developed from the ground up for low-power devices, and Intel said today that the chip will consume no more than 2W of power. In fact, it'll spend most of its time drawing less than 1W thanks to a modular design that powers key chip structures independently, separate power for the address and data buses, aggressive clock gating, and even deeper sleep states than we've seen on a mobile Intel Architecture processor before.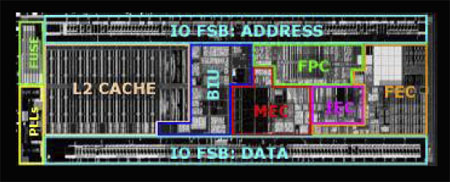 Inside Intel's 45nm Silverthorne
These reduce the chip's dynamic power consumption, but Intel reckons it's cut down leakage power too, thanks to Silverthorne's 45nm design and the use of high-k metal gates, a technique implemented in its 'Penryn' 45nm CPUs.
The upshot: the chip will consume a tenth of the power a single-core ULV (ultra-low voltage) part would have in 2006 - though whether that's Core Solo or the less Celeron variety, Intel didn't make clear.
Intel said Silverthorne will run a 16-stage dual-issue in-order instruction pipeline and will be "fully compatible" with code compiled for the Core 2 Duo processor family. The incorporation of HT means that it will appear to the host device as a two-core chip. It's unlikely to deliver the same performance boost that adding a second true core does, but it will deliver a significant speed improvement over the single-core parts that have been used in UMPCs to date.
Intel didn't say how fast Silverthorne will run, but it did claim the design will scale to deliver 2GHz clock speeds with a 1W power consumption "some time in the future".
Silverthorne will be paired with the 'Paulsbo' integrated chipset to form 'Menlow', Intel's next-gen UMPC platform. They're all expected to come to market in the April/May timeframe.
Menlow-based devices have already been seen in the wild. BenQ and LG, among others, showed off Menlow MIDs at the Consumer Electronics Show this year.