Dell quick to ship first EqualLogic box
What, no honeymoon?
Dell is already punting its first EqualLogic storage array, just a few days after it closed the $1.4bn acquisition of the iSCSI storage specialist.
The PS5000 is obviously an EqualLogic baby, with somewhat questionable Dell parentage given the date of the corporate marriage. Parthenogenesis, you might say.
Like most EqualLogic arrays, the boxes can be combined into a virtual storage pool — with a max capacity of 192TB. The system also features management software with application aware remote replication, snapshot tools, and thin provisioning. New PS5000 units can be added to the network and do load provisioning without needing to take storage offline.
The PS5000 lineup comes in three degrees of suffixation: PS5000E for entry level, using 1TB SATA drives for 16TB max capacity; PS5000X for mid-level, using 10k RPM SAS drives for 6.4TB max capacity; and PS5000XV for mid-upper-somethingorother, using speedier 15k RPM SAS drives for 4.8TB max capacity.
According to Dell, the new iSCSI box fits just swimmingly as another middle child in its storage lineup. It places the system between the (EMC-made) entry-level Fibre Channel AX Series and the enterprise-duty CX Series.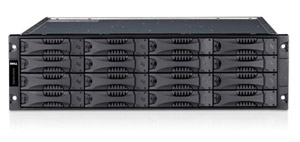 Dell, of course, is relying on iSCSI more and more for its storage portfolio — expecting the protocol's market to expand by roughly eight fundillion in the next handful of years. Or something like that. They're very optimistic anyway.
Honestly, we were too busy squinting at the tiny 160x160 resolution webcast Dell was broadcasting on 1/9th of a projector screen at a press event in San Francisco. No really, journos were gathered to watch a webcast. It was hard enough ignoring the computer operator fighting against a barrage of Microsoft calendar events, task bar pop-ups and Yahoo instant messages all crying for attention. But I digress...
The company still stands firm that its EqualLogic purchase won't effect its lucrative channel relationship with EMC. It may appear to some that the PS5000 drives a wedge down EMC's two storage offerings in the channel. Dell calls it filling a gap. But where does the EqualLogic line go from here?
PS5000 arrays are out now, being sold through Dell direct and channel partners. According to Dell, a typically configured system goes for about $19k and up. ®
Sponsored: Minds Mastering Machines - Call for papers now open