Rocket train smashes world land-speed record
Secret warhead tested in helium-filled polytunnel
It's been a big 24 hours for the US weapons-tech establishment in terms of making stuff go really fast. American war-boffins shot a railgun slug with ten megajoules of muzzle energy (and speed of Mach 7+) yesterday; a different weapons lab has also broken the world land speed record.
The new benchmark - with reference to unmanned vehicles running on rails, anyway - was set by a team at the Holloman Air Force Base High Speed Test Track in New Mexico. This facility is used by the American forces to test all sorts of stuff: ejection seats, missile prototypes, bunker-penetrating warheads etc.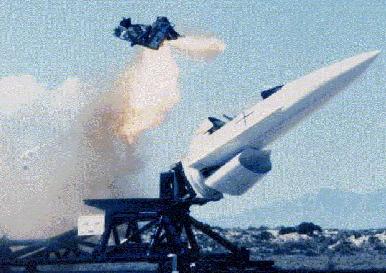 Only the toughest crash-test dummies need apply.
At 1120 PM EST yesterday, a multi-stage rocket sled zoomed down the Holloman track to reach almost Mach 9, according to an airforce spokesman. However, the organisers remained tight-lipped as to what exactly was mounted on the sled for the occasion, saying that it was a "classified payload" designed by the Sandia National Lab for the US Navy.
The Alamogordo Daily News reports that six rocket sleds were used in the test, with sleds dropping away from the back of the train as their fuel was exhausted - not unlike a multistage missile or orbital-launch rocket. Some 15 thousand feet of the track was enclosed in an inflatable tunnel filled with helium for the occasion, in order to minimise heating and drag from the atmosphere.
Lt Col Angela Suplisson, commander of the 846th Test Squadron, said they "picked helium because it's not explosive," adding that hydrogen would be "probably a bad choice".
It seems that the helium reduces heating and drag to a third of that caused by air, which is helpful to the train of sleds accelerating the test object up to speed. Each sled apparently costs $250k; so far nobody has felt like paying for enough of them to reach the track's designed maximum speed of Mach 12.
As to what the US forces might want to test at speeds of Mach 9, nobody's saying: though the Alamogordo News says it was "a warhead test for a Navy customer". Possible candidates include prototype railgun projectiles or missile warheads. ®
Sponsored: Beyond the Data Frontier