Nokia N82 smartphone
Don't judge this book by its cover
The design is distinctive and unusual for Nokia. The numberpad comprises sliver-thin keys, with all the white-printed digits tricky to read against the silver background. Nokia would have done much better with a simpler, larger and more finger-friendly layout. The main button array around the central navigation pad is similarly badly marked. The central nav-pad's outer ring butts up almost flush to the panels on either side, making it easy to press buttons accidentally.
As well as the usual soft-menu, main menu and clear keys, Nokia has added another rice grain-sized button to the controls: an unmarked Multimedia menu button. This handy button whizzes you into a carousel menu of recently accessed content, contacts, web links, maps and games. However, in the busy space around the controls, you may find this also being pressed more often than you intend to.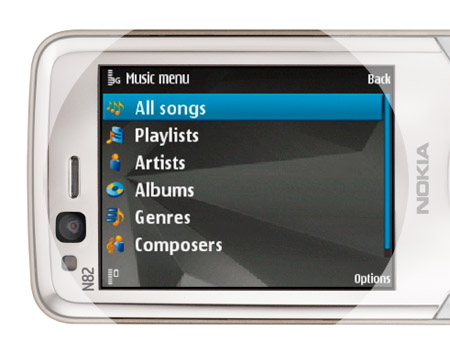 The N82 can keep playing music for up to 10 hours in offline mode
The screen is a decently-sized 2.4in, 240 x 320, 16.7m-colour display – not as large as the 2.8in screen on the 8GB N95, but still a fair size for viewing images and video and framing shots.
The usual Nokia Symbian third-edition S60 user interface is employed here, with the N82 offering a useful spread of fast access to features and apps via its Active Standby display. Flexible settings allow you to configure shortcuts on top of the display or the soft menus on the bottom for your favourites from a list of dozens of apps, functions and web links. You also get Wi-Fi status, calendar info and details of music player tracks lined up in rows down the screen giving you a useful standby home page.
There's a welcome new feature here: iPhone-like motion sensor technology, automatically switching the screen from portrait to landscape viewing, depending on how the phone is being held.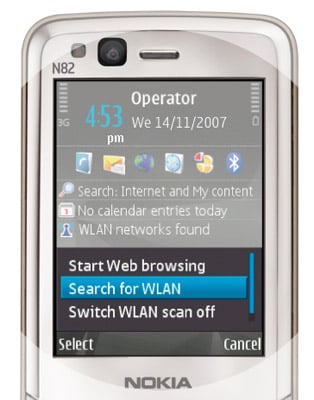 Email is supported, with Quickoffice and Adobe PDF viewers
The camera on the back panel is protected by a sliding lens cover, which also activates the shooter. The switch for this is a little too easy to slide to the open setting for our liking – raising the prospect of unwanted shots of the inside of your pocket.
Any five-megapixel camera on a mobile is still noteworthy, although the small number of top-quality cameraphones available in the UK is steadily growing. Alongside Nokia's own N95 and N95 8GB, there's currently the Sony Ericsson K850i, the Samsung G600 and G800 - reviewed, respectively, here and here - and the LG KU990 Viewty to choose from.