NASA uses vertical treadmill to simulate zero-G jogging
Astronauts driven up the wall
NASA boffins have developed a curious new method of simulating the effects of exercise on astronauts in weightless conditions. They plan to conduct Earth-based trials on human test subjects suspended horizontally in mid-air while running on a vertical treadmill.
"These studies are a key component of our research into how we can better protect astronauts," said Linda Loerch, project manager for NASA's interestingly-named Exercise Countermeasures Project.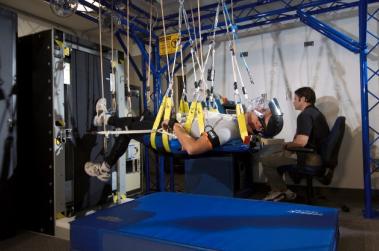 Working here drives me up the wall.
"The focus of our work is to understand how to maintain astronaut health and performance at the highest possible levels, both on our current flights aboard the International Space Station and for future exploration beyond Earth orbit."
The straight-up treadmill is officially known as Standalone Zero Gravity Locomotion Simulator, SZGLS. The idea of hanging the guinea-pig subject horizontally is apparently that this removes all the normal, longitudinal forces experienced by the body in normal gravity. Along the person's long axis, the conditions are exactly the same as in microgravity.
Apparently the funhouse-treadmill rig is highly sophisticated. NASA says that:
The forces against a test subject's feet are precisely controlled and can mimic conditions of zero gravity in low Earth orbit or conditions on the moon ... the device may be used to imitate the physiological effects of spacewalking.
"We are very proud of the collaborative effort this team put forth to develop this system," said Gail Perusek, another NASA exercise-countermeasures chief.
"It required interdisciplinary expertise in engineering, controls and biomechanics, and we are confident it will facilitate valuable research for years to come."®