US military prepares for plummeting spy satellite
Military opt to act...now that crash is imminent over US soil
The US military is putting into effect contingency plans to deal with the possibility that a large spy satellite expected to fall to Earth in late February or early March could actually hit North America.
Exactly what these contingency plans consist of is not clear at this stage - we thought perhaps a giant baseball mitt. But one thing's for sure, the race will be on to salvage the splatted spy sat. Air Force General Gene Renuart, who heads US Northern Command, told the Associated Press a number of pieces will not burn up as the orbiting vehicle re-enters the Earth's atmosphere and will instead hit the ground.
"We know there is at least some percentage that it could land on ground as opposed to in the water."
Renuart added that, "...it looks like it might re-enter into the North American area." The US military along with the Homeland Security Department and the Federal Emergency Management Agency will either have to deal with the impact or assist Canadian or Mexican authorities - depending exactly where it lands of course.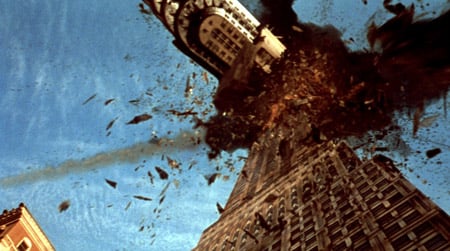 Armagedden-outta-here: journalist's impression of how the re-entry might look
Experts at Global Security , a defense research group, say a crash could put the secrets of the satellite at risk.
"One concern the intelligence community is going to have is that parts of this satellite will fall into the hands of the Russians or Chinese or somebody else," says Global Security director John Pike.
According to Pike, the satellite carries a new generation of spy equipment, able to provide round-the-clock intelligence.
"The hopes were that this was going to be a more capable, less expensive spy satellite or radar satellite that could see objects through clouds and in the dark."
Satellite Watchers, a worldwide network of hobbyists who track satellites for recreation, have been plotting the gradual degradation of the spy satellite's orbit for about year. They estimate it is now at an altitude of approximately 173 miles, and dropping about 1,640 feet a day. ®
Sponsored: What next after Netezza?