Sony intros Intel 'Penryn'-based Vaios
Desktops and notebooks
Sony has added Intel's latest 45nm 'Penryn' Core 2 Duo processors, packing the mobile-oriented chips into a range of Vaio desktops and notebooks.
Take the Vaio TP2, Sony's circle-shaped home entertainment system, now incorporating a 2.1GHz Core 2 Duo T8100. It's also got a Blu-ray Disc drive, an HDMI port and 500GB of storage capacity.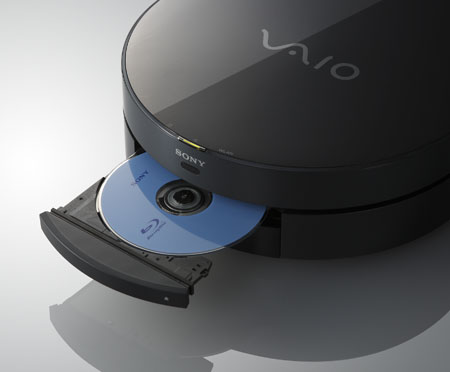 Sony's Vaio TP2: now with Blu-ray and a 'Penryn' processor
The Vaio AR60 17in laptop family already has an integrated Blu-ray drive, and it now has a 2.4GHz T8300 CPU. Sony's equipping the machine with 4GB of memory and Nvidia's GeForce 8600M GT graphics chip with 512MB of dedicated video memory.
The skinny Vaio SZ70 series gets one of the fastest mobile Penryn: the 2.5GHz T9300. Unlike the T8x00 Core 2 Duos, which contain 3MB of L2 cache, this chip comes with 6MB to boost performance. Perhaps Sony's smarting from Apple CEO Steve Jobs' unfavourable comparison of the SZ with his new MacBook Air.
Still, the SZ70 over here have integrated 3.6Mb/s HSDPA 3G connectivity.
Sony also said its 15.4in FZ30 family will get 4GB of memory as standard and T8300 processors. So will members of the CR30 range, though some will come with T8100s instead.
Sponsored: Detecting cyber attacks as a small to medium business