Sharp's 'slimmest' LCD TV to hit Europe this Autumn
Start saving up now
Sharp has announced that its Aquos X series of super-slim LCD TVs will be available in Europe this coming September, chalking the delay up to the different technical standards between Europe and Japan.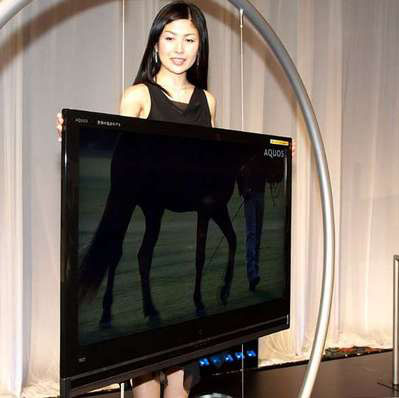 Sharp's Aquos X TVs: just 34.4mm thick
The X series was unveiled in Japan last week and consists of three TVs measuring just 34.4mm at their thinnest part. Europe will receive the same 37in, 42in and 46in sets as Japan, but obviously with the required physical connections and compatibility to make them suitable for European users.
Each set in the X range boasts a 1080p 'full HD' resolution and a 450cd/m² screen brightness, with a neck-friendly 176° vertical and horizontal viewing angle. Connectivity shouldn't be a problem, because each set has three HDMI ports.
The standard 2000:1 contrast ratio can also be boosted by switching on the X series' Smooth Image Quality feature, which bumps up the ratio to 15,000:1 through modifications to the screen's backlight brightness and aperture ratio.
Neither European nor Japanese prices have been seen yet.