Sharp bursts its seams with 20 HD TVs
So many to choose from
Sharp has reasserted its presence in the LCD TV market by unveiling three new telly ranges, totalling 20 sets in all, one series of which it claims is the industry's thinnest so far.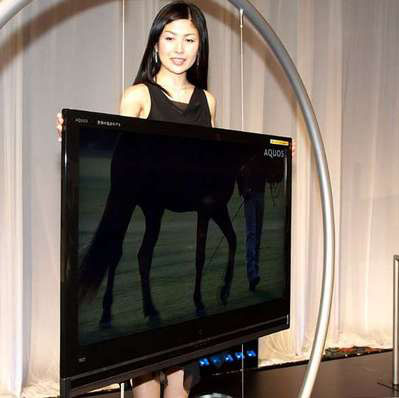 Sharp's super-thin X series
TVs in the X Series Aquos LCD TV range, which include a 37in, 42in and 46in set, measure a meagre 34.4mm at their thinnest part - which will hopefully make it easy to hang on your wall.
Each 1080p resolution set has a 450cd/m² screen brightness and you'll get three HDMI input ports. While a 176° horizontal and vertical viewing angle should mean you're always able to see the screen if you're watching it, say, from the comfort of your lowdown bed.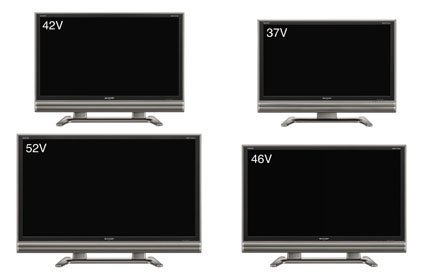 The E series is 'fuller framed'
Sharp's also unveiled four new E series Aquos LCDs, ranging from 42in to 52in, that provide the same 1080p resolution, but which don't boast the same supermodel-esque proportions as those in the X series.
A feature dubbed Smooth Image Quality accompanies both the E and X series sets, which boosts their respective contrast ratios from 2000:1 to 15,000:1, when enabled. It achieves this by controlling the backlight brightness and aperture ratio of the LCD panel to match the video scene being shown. Sharp claims this results in a "powerful sensation of depth" that sounds, well, heavy man.
E series sets still have an identical viewing angle and 450cd/m² screen brightness to those in the X series, and users get three HDMI input ports.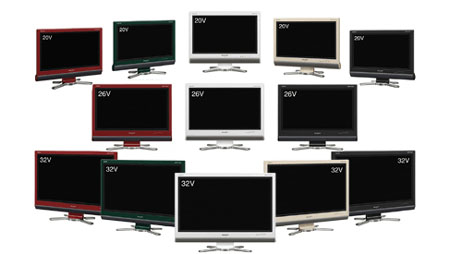 Sharp's D series is vast and colourful
At the bottom of the run is Sharp's Aquos D series LCD, which helps to make up the numbers by containing 13 of the 20 TVs launched. They range from 20in to 32in and ship in several colourful cases, such as green or red.
Hardcore HD fans should note that the maximum resolution available is 1080i, which some don't consider true HD. Each set also has a lesser 1500:1 contrast ratio and none of them include Sharp's Smooth Image Quality ratio booster feature. A 450cd/m² screen brightness and 176° horizontal and vertical viewing angle are built-in.
You'll still be able to connect plenty of peripherals to the 13 sets though, because each has three HDMI input ports.
If any of the sets from the X, E or D range have got you salivating, then you might want to look away now. Because, they're all initially being launched in Japan and Sharp hasn't got back to us yet with any European release dates. Japan takes its first stocks of the D range next month and the two further ranges in March. Prices haven't been given yet.
Sponsored: Minds Mastering Machines - Call for papers now open