Electrical contact lenses created for in-eye displays
Life through a lens
While many of the gadgets that Register Hardware writes about have us shouting 'cool!' and 'I want one of those', there are a few that make us scream 'Cyborg!' However, news of a contact lens that acts like a heads-up display inside the wear's eye made us feel a little uneasy.
The prototype lens has been developed by boffins at the University of Washington (UoW) and incorporates electronic circuits and red LEDs, although it doesn't show a display yet. It was recently tested on a little bunny rabbit's eye though, without ill-effects.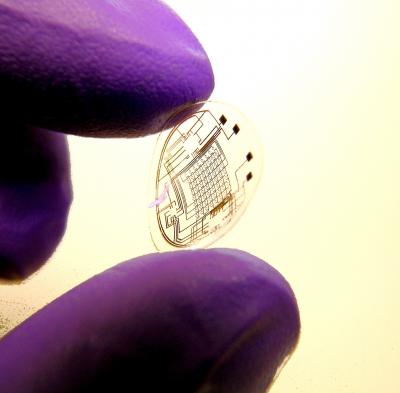 UoW's bionic contact lens
Virtual displays have already been introduced into cars to show drivers, say, their current speed without looking away from the road. However, the UoW's assistant professor of electrical engineering, Babak Parviz, said that the potential for in-eye displays is extremely promising: "Looking through a completed lens, you would see what the display is generating superimposed on the world outside."
UoW boffins hope to power the lens through a combination of radio-frequency power and solar cells placed on the lens. Once completed, this could open the doors for the UoW to show a small and basic display on the lens for the first time.
The lens could have literally thousands of applications. Gamers could use it to totally immerse themselves in a video game, movie fans could watch a film whilst sitting in a coffee shop and die-hard fans of The Terminator could use it to act like a T-800.
If you're dying to get your, erm, eyes of a virtual display then you'll just have to put up with the Cinemizer display goggles for the time being though.
Sponsored: Becoming a Pragmatic Security Leader