Vote for the World's Worst Unboxing
Unveiling the Golden Goldfish
Competition It's Friday afternoon, a guilty trail of Bombay Mix leads from the server room to the pub, and that can only mean one thing: it's time for another Reg Competition. This time it's something special. We want you to Shame The Guilty caught taking part in one of Web 2.0's sickest acts: the Unboxing Ritual.
The er, what?
Well, count yourself lucky if you've missed out on the Unboxing phenomenon. Back in the pre-DTP era, in the golden age of the specialist consumer electronics mag, reviews of hi-fi components or camera lenses were the length of small books, with pages and pages of graphs.
But today's incontinent blogtard can't manage to do much more than open the gadget's box before posting shaky footage of the act on the World Wide Web.
The review itself has become superfluous - dedicated unboxers get a new gadget every week, so they never have time to do more than open the box - and so the packaging has become the central part of the ritual. This has resulted in some of the most retarded User Generated Content ever created. So let's celebrate it, and find the World's Worst Unboxing.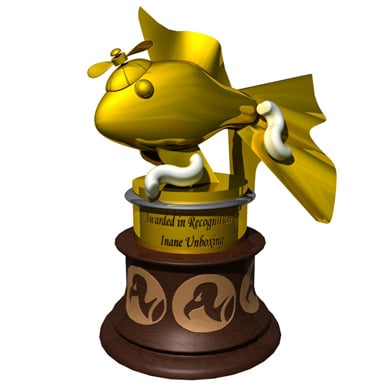 In recognition of inane Unboxings: The Golden Goldfish
The Reg has commissioned a prestigious ray-traced trophy for the winner, The Golden Goldfish Award. (So called because the Unboxers have the attention span of a... no, wait. What were talking about again? [Attention spans - Ed] Ah, yes. Attention spans.
We'll start with a couple of classic examples, and encourage you to nominate a worthy winner. (The best nominations will themselves win a Reg T-shirt and BOFH book.)
"Hold the camera still... still... oh fuck it then"
Here's a classic of the genre. Unfortunately we can't embed this, so you have to click here or on the picture below.
Isn't the soundtrack a lovely touch?
(Amazingly, Nokia runs an expensive scheme that encourages people to create "Unboxing Videos" - by giving a free phone to anyone who'll talk about it in public. It's called the "Nokia Ambassador Program", but really it should be called "Retards Choose Nokia". It has quite the opposite effect to the one Nokia intends: prospective punters see the videos, look down at their hands, see a pair of reversible thumbs, then conclude that they're not the target market. FAIL.)
But surely surpassing that for utter pointlessness, here's this one. Reader "Chaz" explains:
"It's a single-handed, left-handed unboxing of a Jawbone headset. He keeps trying to get the box open, but he can't do it with one hand, so he keeps trying to use his right hand that's holding the camera to help. Finally he gives up, there's a camera edit, he's obviously opened the box _off-camera_ and then resumed the unboxing like it was all happening live."
Superb.
To help you, there's even a site dedicated to Unboxing. So send us your nomination for who deserves a Golden Goldfish - just click right here. ®
Sponsored: Practical tips for Office 365 tenant-to-tenant migration