US Army proto-Dalek combat robots enter testing
Flying wastebin wardroids a taste of things to come?
Monster Pentagon contractors Boeing and SAIC jointly announced today that two of their latest offerings for the future robot armies of America have entered military testing early. The machines in question are a relatively dull lightweight groundcrawler job and a frankly splendid ducted-fan flying Dalek.
The two mechanoid warriors are known as the Small Unmanned Ground Vehicle (SUGV) and the Class I (Block 0) Unmanned Aerial Vehicle, aka Micro Air Vehicle or MAV. According to a joint Boeing/SAIC release, 25 SUGVs and 11 MAVs will be shipped to US Army test facilities starting this month.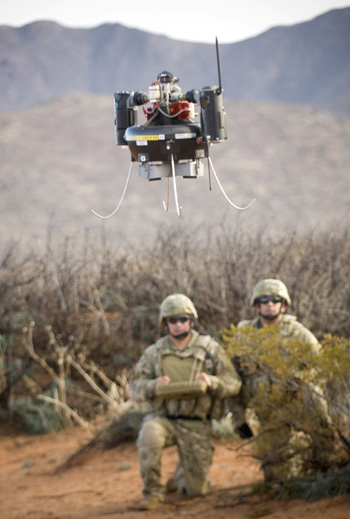 How the Daleks started out. Maybe.
"The decision to accelerate, driven in part by feedback from soldiers in theatre... confirms that we are on the right track to deliver a crucial capability that is needed and desired by our soldiers currently serving in combat operations," said Boeing wardroid veep Dennis Muilenburg.
Both machines are part of the Army's Future Combat Systems (FCS) plan, under which an amazing panoply of vehicles, robots, intelligent minefields etc will be interlinked across a common network - the net also extending to each individual soldier via helmet displays, rifle cameras and so on. Originally FCS included something not unlike a robot tank, but sadly (for fans of Keith Laumer's Bolo novels, at any rate) this has been cut - along with some of the other robots - owing to budget pressures.
The SUGV and MAV survive, however, and now appear likely to reach the battlefield ahead of schedule. There are already large numbers of SUGV-type crawler robots fighting alongside US forces, but the MAV will be something new. Able to fly at 60 mph, climb to 10,500 feet and yet hover about in restricted urban spaces, it avoids the usual robot problems of slowness and inability to cope with obstacles. Both bomb-disposal teams and patrolling infantry might very well find it useful, if it can really do all it says.
The MAV is being handled by Boeing as FCS droid-army lead, but in fact was largely developed by Honeywell. The designers describe it as "a scalable family of systems", suggesting that the current 16lb, wastebasket-sized job might be only a forerunner.
Thus the prospect exists of bigger dustbin-scale versions, potentially armed with lightning beams or laser rayguns currently receiving Pentagon development funding. A sink-plunger attachment would be a trivial, almost inevitable addition at that point. If that isn't a proto-Dalek, we don't know what is*. ®
Bootnote
*We do know that Daleks aren't robots, being controlled from within by repulsive alien mutants. We submit, though, <grenade>that there was probably a stage of history on Skaro where the aliens hadn't yet mutated to the point of needing to get inside their Daleks, and still handled them by remote control - as the Americans do today.</grenade>