Skullcandy headphones ditch the MP3 player
No player? No problem!
Skullcandy's cottoned onto the idea that people don't always like carrying an MP3 player around, and has developed a pair of headphones that do away with it altogether.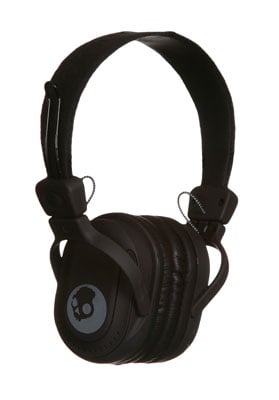 Skullcandy's Double Agent: integrated SD card slot
The manufacturer's Double Agent set of overhead and foldable cans incorporate a slot for any standard SD card, allowing you to plug your music storage directly into one of the headphone's earcups.
A USB port's also built into the headphones, so you can drag and drop music files from your PC directly onto your SD card, whilst it's still slotted into the headphones. Controls for vital commands, such as play, pause and stop, feature on the outside of the wireless can's earcup.
In terms of audio performance, the 44mm-speaker Double Agents have an impedance of 32ohm and run off a lithium-ion battery which Skullcandy claims gives about five hours of play from a one-hour charge.
The Double Agent headphones are expected to ship this spring, but a price hasn't been heard yet.