Toshiba quietly shows fuel-cell fitted UMPC
Methanol-powered processing
CES Toshiba didn't make much of a fuss about its UMPC, claiming the smooth-cornered handheld PC was intended to demo technologies the company develops to potential manufacturer customers. One such technology: fuel cells.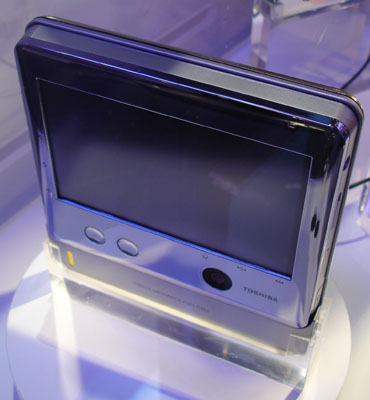 Toshiba's fuel cell-fitted UMPC
Toshiba didn't want to say what the unit's specification was, but we can say it's capable of running Windows Vista. Its shiny-faced casing contains a multi-way navigator to control the cursor and a couple of keys in place of mouse buttons. Presumably there's a tiny Tosh hard drive in there too.
The consumer electronics giant wouldn't let us handle the UMPC, so we couldn't take a crafty peek at Vista Device Manager and System Properties.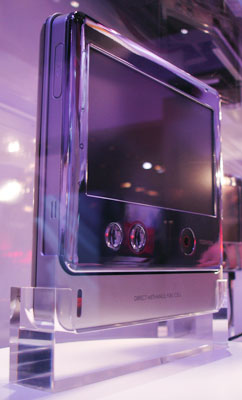 How much power will it provide?
All the UMPCs on show were tightly sealed within perspex case but we did spot the words 'Direct Methanol Fuel Cell' on one of them: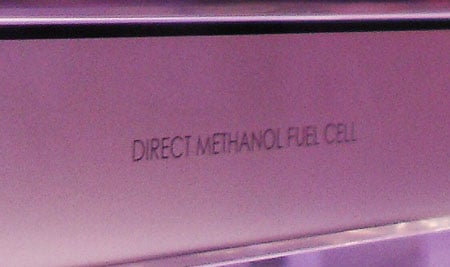 Closer inspection revealed the UMPC is not itself equipped with a fuel cell. Rather, Toshiba's built a fuel cell unit into which the UMPC docks, just as it might sit in a desktop sync cradle. The fuel cell sleeve neatly matched the width of the handheld, adding just a few millimetres to the unit's thickness and almost three centimetres to the height.
Think of it as the handheld equivalent of an extended battery pack you might use with a laptop.
Toshiba wouldn't say what capacity the fuel cell has - there's a theme developing here, no? - either in terms of its physical fuel storage space or its operational run time.
Sponsored: Detecting cyber attacks as a small to medium business