Samsung enhances Q1 Ultra UMPC performance
Premium model gets longer battery life too
CES Samsung has upgraded its Q1 Ultra UMPC, adding 'Premium' to the machine's moniker and boosting the handheld's processing power and its battery capacity.
The Q1 Ultra Premium sports the same 7in, 1024 x 600 display as the Q1 Ultra, but behind it beats a 1.33GHz Ultra Low Voltage (ULV) Intel Core Solo U1500 CPU. The new model contains 1GB of DDR 2 memory and an 80GB hard drive.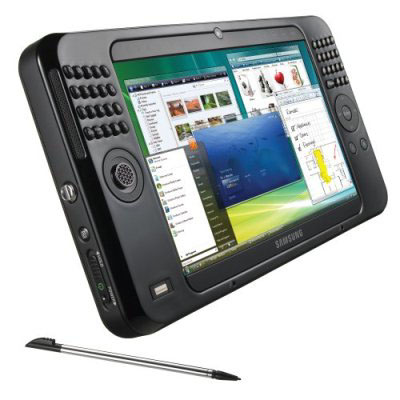 Samsung's Q Ultra Premium: faster CPU than before
Once again, the UMPC incorporates 802.11b/g Wi-Fi and Bluetooth 2.0 with Extended Data Rate (EDR) technology. There's a 0.3-megapixel webcam above the display and the two halves of the Q1 Ultra's split Qwerty micro-keyboard on either side of it. The keypad's been improved, with larger keycaps.
Round the back sits a 1.3-megapixel digicam, and there are USB, VGA and Ethernet ports along with an SD/MMC memory card reader. It's apparently got a GPS pick-up too.
The Premium gets a 57.7Wh, six-cell battery capable, Samsung claimed, of powering the UMPC for up to 7.5 hours, rather more than before.
Windows XP Tablet Edition is still part of the package.
Samsung didn't say how much it the Premium will cost, but it did say the price of the Q1 Ultra will be reduced "to make room" for the new machine. The top-of-the-line Q1 Ultra variant costs $1499 in the US, so we expect the Premium to come at that point. It will be available shortly, Samsung indicated.
Related Revews
OQO Model e2 UMPC
Ubiquio 701 UMPC
Sony Vaio VGN-UX1XN UMPC