Sennheiser to show 'CD quality' wireless 'phones
Lossless Kleer technology better than Bluetooth, apparently
CES Headphones specialist Sennheiser will tomorrow show off a set of wireless earphones based on a technology it claims delivers true CD quality lossless sound in place of the compressed, lossy audio you get with Bluetooth 'phones.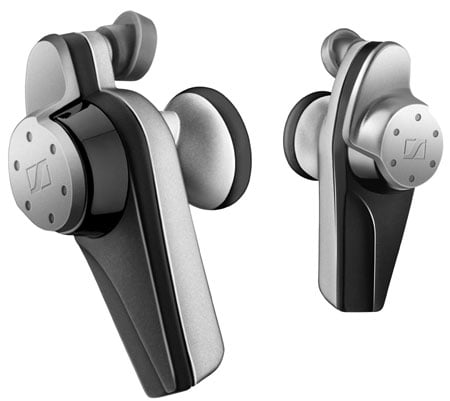 Sennheiser's MXW1: 'phones...
The MXW1 set uses audio transmission technology from chip maker Kleer. Like Bluetooth, Kleer's system operates in the 2.4GHz band, but Kleer claims its approach is better able to co-exist with other wireless connectivity technologies, such as Wi-Fi - it fits into the narrowband gaps between the WLAN channels, apparently.
More to the point, it was developed specifically for audio, rather than general purpose communications.
Consumers will have to wait until May to try Kleer's technology for themselves, though Consumer Electronics Show (CES) attendees will presumably get a go tomorrow when the MXW1s are officially launched.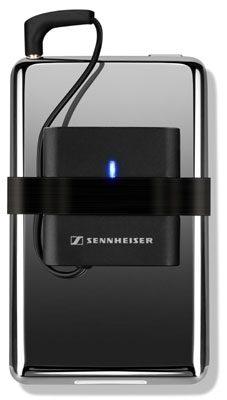 ...and transmitter
The compact earphones will come with a transmitter that fits onto the back of, say, an iPod thanks to an elastic strip. The transmitter, which has a built in battery, is about the size of a book of matches, Sennheiser said. It digitises the analogue output coming from the player's headphone socket, but the audio stream is not compressed, Sennheiser said.
However, it didn't say what the set's battery life will be, but Kleer maintains its technology's interference resilience makes for very low power transmissions which result on battery endurance that's up to ten times what Bluetooth stereo devices can manage.
Unlike Bluetooth, Kleer's system supports transmitting to multiple headsets, though since it's not a standard, you can't mix and match transmitters and 'phones. Still, Kleer undoubtedly hopes the MXW1s will encourage phone and music player makers to license the technology for their own products.
Related Reviews
Hauppauge XFones PC-2400 wireless headphones
iSkin Cerulean F1+TX Bluetooth stereo headset
Logitech FreePulse Bluetooth headphones