Panasonic preps Blu-ray, iPod-friendly home theatre kit
CES Panasonic has combined two the consumer electronics industry's major buzzwords in a single product: a home theatre rig that incorporates not only a Blu-ray Disc player but also an iPod dock.
The SC-BT100 comprises a central unit, five satellite speakers – two front, two rear and an under-screen unit – a sub-woofer. Panasonic said the sub-woofer's Kelton design "features a passive radiator and a driver anchored to the cabinet to reduce vibration and noise while delivering more dynamic bass". The satellites are made with bamboo cones which, being more rigid than paper cones, deliver a more accurate sound, the company claimed.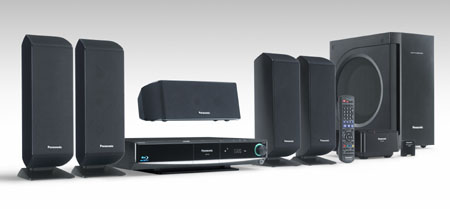 Panasonic's SC-BT100: iPod-friendly
The Blu-ray unit delivers full 1080p HD content out through component-video and HDMI ports. It supports the boasts the Final Standard Profile, supporting picture-in-picture and audio mixing, which allows the consumer to switch the sound between the main and sub-soundtracks.
It'll do cinema-style 24p output too.
The iPod dock supports all dockable iPods, Panasonic said, and will allow video to be played through from the Apple gadget – though, interestingly, only out through the SC-BT100's composite-video port.
The SC-BT100 is scheduled to ship in the US in May. Panasonic didn't name the price, or say when the set will go on sale overseas.