Nintendo Wii set to beat MS' 17.7m all-time Xbox 360 sales tally
Halo 3 effect plus Wii famine makes it a close-run race
Microsoft has sold 17.7m Xbox 360 games consoles since the machine was introduced in late 2005, 4.3m of them since the beginning of October 2007, the company claimed yesterday.
That almost certainly means the Microsoft console has outsold Sony's PlayStation 3, though that machine only went on sale a year after the Xbox 360 did. That's true of the Nintendo Wii too, but we'd expect the Wii to have surpassed the Xbox 360's total.
According to the Reuters newsagency, Nintendo had shipped 13.2m Wiis worldwide by the end of September 2007, just under the 13.4m Xbox 360s sold to date at that point.
To beat the 360, Nintendo will have had to have sold more than 4.5m Wiis. Unfortunately, US sales data for December 2007 isn't yet in, although according to market watcher NPD, Nintendo shipped 1.5m Wiis in the US in October and November.
US Console Sales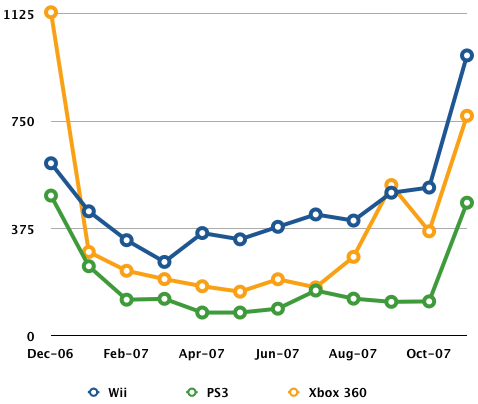 Source: NPD
Japanese Wii sales for those two months come to 1.34m units, according to publisher Enterbrain, and based on local market monitor Media Create's weekly December sales figures, you can add at least 0.6m to that figure, making 1.94m, rising to 3.44m when you add the US numbers.
Japan Console Sales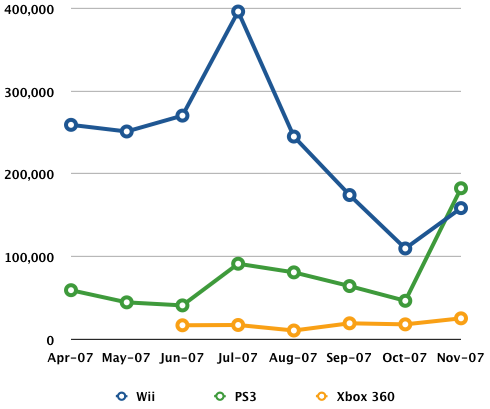 Source: Enterbrain
Factor in European estimates and the number of consoles Nintendo is seems likely to have shipped in December, and the videogames pioneer should well have shipped more than 4.5m Wiis in the last three months of 2007.
Not bad for a machine that has a much lower spec than the 360 and PS3, and has been on sale for a shorter period. Only the infamous Wii famine might keep the 360 on top.
But to finish with the 360, Halo 3 went on sale late September 2007. Some 8.1m copies were sold up to the end of the year, Microsoft said. So it's not hard to see how the company sold 24.3 per cent of all the Xbox 360s it has ever sold in the same period as this much-anticipated title was on sale.