Intel gears up for for 45nm frenzy in 2008
Processor, platform and chipset roadmap
May 2008 is earmarked for the debut of the 'Eaglelake' chipset family, comprising the P45, G45 and G43 and possibly the X48, if - as claimed - Intel's put it back.
The P45, G45 and G43 are the numerical successors of the P35, G35 and G33 chipsets, but Intel sees the G45 fitting into to a broader range of desktop systems than the G35 did, and the G43 reaching down into more budget segments of the PC market.
The G45 and G54 on-board GPU will be capable of supporting DirectX 10 and Shader Model 4.0, along with OpenGL 2.0, it's said. Both will power Windows Vista Premium and MPEG 2 decoding. But while the G45's GPU can also do AC1 and H.264 decoding, the G43's can't. They'll both support HDMI outputs - HDCP support is built in too - in addition to DVI. All three chipsets will be fabbed at 65nm and will incorporate the upcoming ICH10 southbridge I/O chip, which isn't a part of X48.
The P45 is expected to support AMD's CrossFire X multi-GPU technology.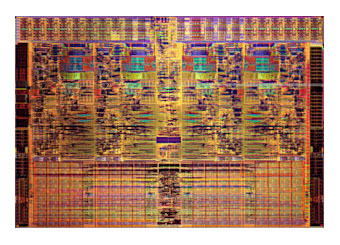 intel's 'Nehalem': due Q4 2008 as 'Bloomfield'
May will also play host to 'Montevina', the next generation of Centrino and Centrino vPro. Montevina will feature the 'Cantiga' chipset, with an updated LAN chip, 'Boaz', and 'Echo Peak' and 'Shiloh' providing wireless connectivity. Echo Peak combines Wi-Fi and WiMAX. Curiously, he didn't mention 'Dana Point', Intel's planned WiMAX-only module for notebooks. Shiloh, by the way, is an 802.11n-only module.
Cantiga ups the frontside bus (FSB) speed to 1,6066MHz and looks set to support 800MHz DDR 3 in preference to the less power-efficient 800MHz DDR 2. The chipset family will include an integrated GMA 3500 GPU.
Montevina will coincide with the introduction of 25W mobile Core 2 processors tuned to the platform's faster-than-present FSB. Come August, we'll see further mobile Core 2 processors: the first quad-core laptop chips. The 45nm, 840m-transistor chips will contain 12MB of L2 with each core pair sharing 6MB, they'll run on a 1066MHz frontside bus and consume up to 45W of power.
The same timeframe will see the arrival of 'McCreary' - essentially the addition of vPro technology to the Eaglelake chipset family.
Which just leaves us with the Q4 2008 introduction of the first 'Nehalem' processors, specifically 'Bloomfield', the basis for future Extreme chips for single-processor boxes and four-core Core x CPUs. It'll contain 8MB of L2, the new QuickPath Interconnect (QPI) bus and the ability to host three channels of DDR 3 memory.
Bloomfield will connect to 'Tylersburg', a chip that links the CPU's memory controller to PCI Express 2.0 slots and to the host system's southbridge I/O chip.
Sponsored: Detecting cyber attacks as a small to medium business