AMD lays down laptop platform plan
Mobile roadmap 2008-2009
What's AMD got planned for notebook makers and buyers over the next few years? Its plans are broadly known - the 'Puma' platform will be released in 2008 followed by the first 'Fusion' architecture mobile CPUs the following year - but now we can begin to flesh it out a little.
Puma incorporates 'Griffin', AMD's first mobile processor designed as such from the ground up. That said, the 65nm dual-core part will incorporate processing cores taken from the Turion X2 family, each connected to 1MB of L2 cache for 2MB in total.
AMD's work on the CPU has focused on improving the northbridge elements: in comes HyperTransport 3 with the addition of bus-power management circuitry to clock it up and down dynamically according to need.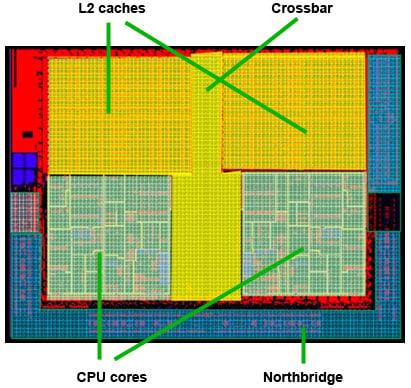 Inside AMD's Griffin
Griffin's dual-channel DDR 2-oriented memory controller features a pre-fetcher to grab ahead of time the data it thinks the processing cores are going to want from memory in the near future. It's also tweaked to work only with notebook-style memory configurations and not the broad array of desktop and server memory options the current Turion line is architected to be able to deal with, albeit unnecessarily.
These northbridge components and the two cores are all on separate voltage planes, allowing each to run on reduced power when they're not needed. That allows, for example, a chipset-integrated graphics engine to connect through to main memory without troubling the CPU cores. The cores themselves are able to switch frequencies independently and quickly - in microseconds rather than milliseconds - with the ability to fall to a lower base frequency than Turions - they fall to 800MHz, while Griffin will go down to 300MHz.