Yes! It's the the wireless USB Missile Launcher
Fire! Fire! Fire! Fire!
Good news, office warfare fans - the USB Missile Launcher is back, in a new, flashier wireless version that makes for the strategic siting of remote batteries.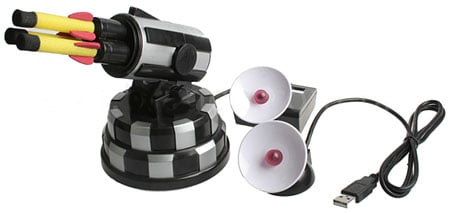 The USB Missile Launcher: can now be deployed remotely
Like the wired version, the new launcher is controlled by a little targetting app running on a Windows PC. This time round, what's plugged into said system is a dish-like wireless transmitter that can talk to a similar unit wired up to the launcher itself.
Supplier Brando claims dish-to-dish communications can take place at distances of up to 15ft, which the launcher can propel its payload of three foam missiles a further 20ft. Right down the corridor and into the Accounts department, in other words.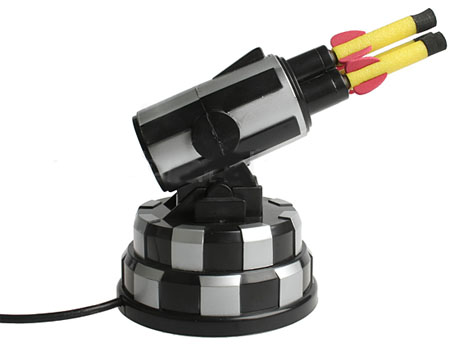 Ready, aim, fire
The software provides full firing control, with elevation and direction ready to be set at the click of a mouse.
The kit costs $45 (£22/€31), with extra three-rocket missile packs coming in at $3 (£1.50/€2), and while they're not available yet, Brando says they'll be in stock on, of all dates, Christmas Day.
Peace and good will to all men? Yeah right... Make war not mince pies... Now, you suckers - eat rocket!