HD TVs
Read about watching
Top Five The TV has long been central to many peoples' lives and, as such, is often seen as one of the most important technology purchases for the home. But which one to buy? To help answer that question, Register Hardware sought the advice on an expert for the season's most in-demand LCD and plasma HD TVs.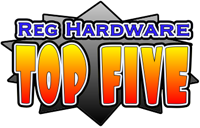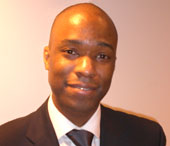 Michael Elliott has been working in the TV industry for around 15 years and he's seen displays' capabilities change immensely over that time. He has both LCD and plasma TVs at home, with a range of HD devices connected up to each. Michael also enjoys researching and reading online about the latest in TV developments, when not watching a Blu-ray or HD DVD film.
Michael's picked out five of the leading models in the 32in to 50in display range, in an effort to help you decide how much you want to spend on your next TV and, crucially, what features and capabilities you need from your goggle-box.
Sony Bravia KDL-40X3000 40in LCD
"Since this is a 100Hz TV, it has a very good refresh rate, making it ideal for watching sports because images move very smoothly and without juddering or ghosting. It also runs at 24 frames per second, the true frame rate of films in the cinemas, making it a draw for movie lovers. This 'full HD' 1080p TV also has a 18,000:1 contrast ratio, which is one of the highest available in the 32-50in display range, and it'll accentuate rich colours and deep blacks with ease."
More Info Sony's website
Price: £2089
Best online prices: From £1565 - 5 Sellers
---
Humax LP32-TDR1 32in LCD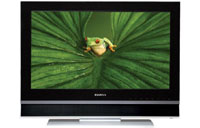 "This TV has a 160GB hard drive built in and a slot for a Top Up TV card. Obviously, its viewing angle and colour range isn't as impressive as you might see on a larger LCD or plasma TVs, but the company's trying to catch customers with the TV's features more than its viewing quality. It only has one HDMI input and some customers could be put off by the TV's 'basic' styling."
More Info Humax's website
Price: £750
Best online prices: From £583.01 - 1 seller
---
Panasonic Viera TX32LMD70 32in LCD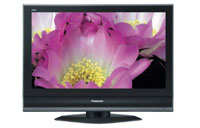 "A slight colour shift is noticeable when watching this full 1080p HD TV from different angles and it doesn't have the full surround sound available with some of the larger models in the range. Some users may also find the inclusion of only two HDMI ports slightly limiting on a TV of this size, because it restricts the number of HD devices you can connect it up to, such as a PS3. However, it's very good for most people seeking an 'average' TV, because it's a good all-rounder."
More Info Panasonic's website
Price: £590
Best online prices: From £514.99 - 11 sellers
---
Samsung PS42Q97HDX 42in plasma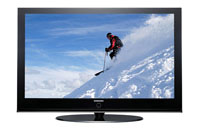 "This model has a 15,000:1 contrast ratio, which puts it in the same league as Sony's Bravia, and it displays a selection of very rich and deep colours. The screen is also quite resilient because it's made of glass, meaning it can stand-up to the rigours of home life better than some LCD sets can. There are technically better Panasonic TVs in this size bracket though, which shows through in the quality of this display sometimes, but Samsung's TV is a cost saver over other brands."
More Info Samsung's website
Price: £800
Best online prices: From £669.00 - 12 sellers
---
Panasonic Viera TH42PX70 42in plasma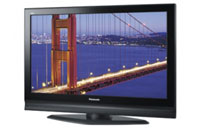 "The image quality on this TV is fantastic and it gives great results for all types of images, such as sports and movies. Refresh speed isn't such a issue with plasma as it is with LCD, and it's popular with TV buffs making the jump to Blu-ray or HD DVD. A stand isn't included with the TV but its contrast ratio is about average for this size of plasma TV."
More Info Panasonic's website
Price: £820
Best online prices: From £693.00 - 12 sellers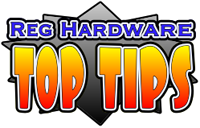 Michael's top tips for buying an HD TV
"Think about what type of programme you frequently watch, such as films or sports, and where you are going to put the TV in your house, such as a sunny room. An LCD is best for bright rooms that get lots of natural sunlight into them, while plasma displays provide a naturally brighter on image that's best for darker locations. However, there's a smaller choice of manufacturers in the plasma sector and so customers get a wider range of choices, such as in size, from the LCD market."
Thanks to Michael at John Lewis in Oxford Street, London.
More Reg Hardware Top Five...
• MP3 players
• Digital compact cameras
• Digital SLRs
• Macs
• Sat navs
Sponsored: Quit your addiction to storage