Japan launches parent-proof phone
Know where your kids are, always
Japanese network operator NTT DoCoMo today unveiled the ultimate mobile phone for over-protective parents.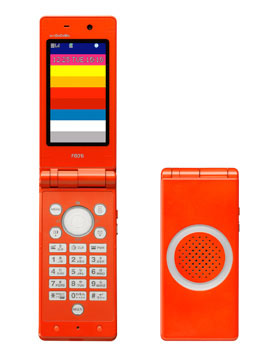 DoCoMo's Foma 801i: head-splitting alarms, bright LEDs and it's waterproof
The Foma F801i clamshell contains numerous child safety features, most notably a 100 decibel alarm that produces two ear-piercing tones when activated by a troubled child. There's also a high-intensity LED designed to summon nearby would-be Supermen to the child's aid - although it's also bound to either attract anyone who fancies stealing a mobile phone from a child, or be used as a way to annoy teachers in the classroom.
The GPS-enabled handset sends pre-set messages to one of several pre-determined numbers when the handset's alarm is activated or the phone's turned off. However, the battery is screwed in to stop kids pulling it out and setting parents into a panic unnecessarily.
Should the, ahem, little darling really get into trouble though then h or she can the handset's side. This notifies a pre-determined number of the handset's location.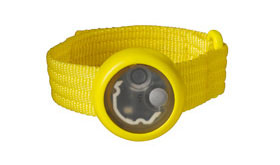 The phone's accompanying security watch
The over-protection doesn't stop there though. The child is also expected to wear an accompanying watch that automatically locks the handset and makes it beep if it's separated from the phone.
And, because children often fall into swimming pools and such, the phone's waterproof up to 1m. However, you'll have to hope your child can swim well because neither the phone nor the watch alert anyone when they fall in.
NTT DoCoMo said the Foma F801i is available in Japan from 20 December, for around ¥20,000 (£90/€120/$178). No European release date has been given yet, so anxious UK parents will just have to rely on the trusty ball-and-chain method for now.