Boeing announces 'Laser Gunship' completion
'Tactical' raygun weighs only 20 tonnes
Airliners'n'deathware behemoth Boeing announced yesterday that it had fitted a high-energy laser cannon aboard a C-130 Hercules military cargo plane, creating a "Laser Gunship". The company expects to commence blasting "mission representative" test targets next year, firing deadly energy bolts from a "rotating turret that extends through the aircraft's belly".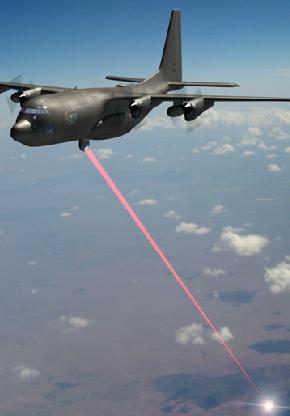 Try making a cellphone call now, bitch.
This flying-raygun project is called the Advanced Tactical Laser (ATL), as distinct from Boeing's other aerial beam cannon effort - the jumbo-jet mounted Airborne Laser (ABL). The 747 laser is intended to fry enemy nuclear missiles lifting from their silos, and needs immense range and power - hence the requirement for a massive carrying aircraft.
The ATL Hercules blaster-weapon is seen more as a raygun for every day, zapping things or people during more routine battles as opposed to saving the USA from atomic destruction. This should let it operate closer to its targets, reducing the weight of the system and thus the size of aeroplane required to carry it.
"The installation of the high-energy laser shows that the ATL program continues to make tremendous progress toward... a speed-of-light, precision engagement capability that will dramatically reduce collateral damage," said Boeing exec Scott Fancher.
"Next year, we will fire the laser at ground targets, demonstrating the military utility of this transformational directed energy weapon."
Like the jumbo-ray, the ATL is a Chemical Oxygen Iodine Laser (COIL). This means that it uses large amounts of hazmat fuel and produces similarly copious amounts of deadly toxic crap every time it gets fired.
However, Boeing reckon they have this covered. The ATL's COIL is "closed-cycle", keeping its deadly exhaust products contained. The whole system supposedly weighs 20 tonnes, taking up most of a Hercules' payload. Exact specs on performance are hard to come by, but usually reliable sources have suggested useful ranges up to 10 or 20 km, and power outputs in the 100 kilowatt range - perhaps focused on an area only four inches wide.
Chemical fuel capacity for 100 useful blasts has been mentioned, after which the six-tonne sealed laser module would need draining, refuelling with chemicals and liquid-nitrogen coolant and probably maintenance too. These dangerous, specialised activities would most likely have to be done by Boeing in the USA.
According to Boeing, the ATL's "final US Air Force exam will be twofold: to surgically destroy a communication tower and to disable a moving truck."
The ability to knock out a cell tower or a truck silently and precisely from 10km without collateral damage is mildly cool, but whether it's cool enough for all this bother is questionable. A sniper with a .50 calibre anti-material rifle can stop a truck from a helicopter nearby or a hide further off; a cell tower can be shot out too, or jammed or spoofed. A normal AC-130 would seem at least as useful as a "Laser Gunship", and considerably cheaper.
Even if Boeing can actually get it done, it's hard to say that these tests would "demonstrate military utility" or show anything "transformational". ®
Sponsored: Becoming a Pragmatic Security Leader