Oqo adds HSDPA to Model 2 UMPC
When in Roam...
UMPC maker OQO has today launched a version of its Model 2 handheld computer with integrated 3.6Mb/s HSDPA 3G connectivity.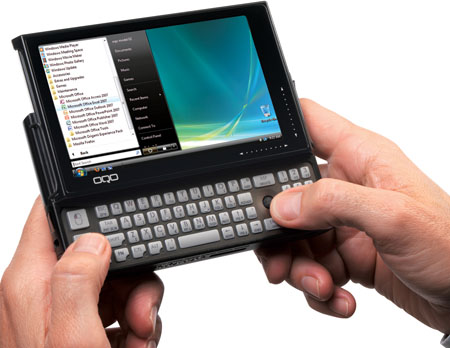 Oqo Model 2: now with HSDPA
The unit is identical to the regular Model 2 - reviewed here - with the exception of a pull-out antenna fitted into the right-hand side of the keyboard section of the machine and, beneath the battery, a SIM slot.
The Model 2 - known as the e2 in Europe - isn't tied to a network, allowing users to fit any SIM they care to. Where no HSDPA network is present, the unit will fall back to regular 3G then to Edge and, finally, GPRS.
The machine already incorporates Bluetooth 2.0 and 802.11b/g Wi-Fi.
Oqo offers the machine with a choice of Windows Vista or XP Tablet PC Edition, along with a variety of processor, memory and hard drive options.
Related reviews
• OQO Model e2
• Asus Eee PC
• Fujistu FMV-U8240
• Sony Vaio UX1