Seagoing satellite launch stymied by La Nina
Pacific rocketeers swept away by chilly currents
Seagoing space-rocket company Sea Launch has given up on attempts to boost a communications satellite into orbit from the mid-Pacific, blaming unusual ocean currents possibly related to the "La Nina" phenomenon.
Sea Launch uses a self-propelled ocean going platform to move its launch rockets into position on the Equator, thus gaining extra velocity from the rotation of the Earth. The company had planned to launch a mobile voice-and-data satellite for Thuraya Satellite Telecommunications Company on 14 November.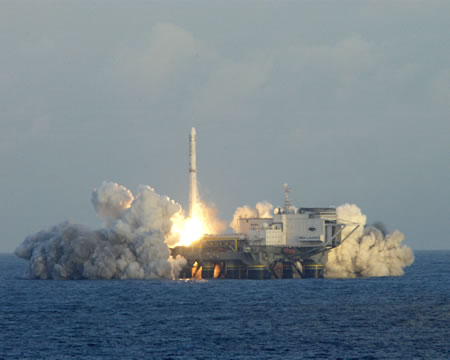 An earlier, successful wet launch.
Now, however, AP reports that the platform and its accompanying control ship began the journey back to their home port at Long Beach in California on Tuesday, with the rocket and satellite still aboard.
According to a company spokesman, the planned launch was frustrated by high winds combined with exceptionally strong ocean currents, which prevented the launch platform from maintaining its position.
"We were just using up fuel trying to stay still," Paula Korn told AP.
After repeated attempts and aborts, the decision was made to give up for the time being and return to Long Beach.
"We determined we would come back, resupply, realign ourselves and reschedule the mission," Korn said. "We've never had conditions like this before."
Sea Launch has been boosting satellites since 1999, though operations have been suspended since a rocket exploded just above the platform in January at the start of the company's 24th job.
Apparently, Space Launch captains this month thought the strong currents at the launch site might be related to the "La Nina" phenomenon, in which cold waters from South American coastal regions move up towards the Equator and affect global weather patterns. Unusually low sea temperatures were recorded during the unsuccessful launch attempt, according to Korn.
There are more than 300 people aboard the Sea Launch Commander (the control ship) and the platform, named Odyssey. The ship will reach Long Beach next week, but the slower platform isn't expected for a fortnight. ®