LG KU990 Viewty cameraphone
Give a phone a touchscreen and suddenly everyone's interested
Review Touchscreen mobiles are destined to be a hot ticket for the foreseeable future, but with the touch-controlled KU990 Viewty from LG there's far more than screen-fingering novelty to tap your attention.
The Viewty - daft name, it has to be said - adopts the stylish look and feel of LG's Prada phone released earlier this year but ups the feature count. HSDPA 3G connectivity is included here, as well as a highly-specified five-megapixel camera, equipped with Schneider-Kreuznach optics, and offering manual focus and high-quality video capture at up to 120 frames per second.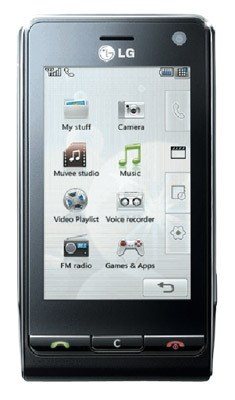 LG's KU990 Viewty: dominated by the 3in display
As you'd expect with any self-respecting high-end mobile, a music player and video player are included, and the 3G connectivity provides video calling - there's a secondary camera up front, above the display - support for high-speed downloading and a decent web browsing experience.
The KU990 is one of the first touchscreen phones that isn't powered by a smartphone operating system. LG's touch-operated user interface debuted on the Prada, and it's no surprise the design here echoes that device's classy minimalism.
This phone has larger dimensions than the compact Prada, measuring 103.5 x 54.4 x 14.8mm and weighing 112g. The front is dominated by the display – a 3in, 240 x 400, 262,144-colour LCD screen. There are three discreet keys lined up at the bottom - Call, Clear and End - blending in with the black casing.
There's some subtle chrome edging on the side of the Viewty. On one side is a sliding cover-protected charger and headphone socket. The other has a camera activation key that doubles up as the shutter control. There's also a touchscreen lock button – essential for such a device – and a three-way slider to flip the camera between still and video photography, and between recording and playback modes.
This digital camera styling is echoed by other details. The lens on the back of the phone looks the part, with a manual focus and zoom control jog ring around it, and a xenon flash. Surprisingly, there's no lens cover protection - we'd have expected one on a phone so clearly wanting to show off its camera credentials.
Still, LG has equipped the KU990 Viewty with some heavyweight camera functionality. It has a wide selection of settings and a camera-style user interface that utilises the touchscreen capabilities of the phone to view images, manipulate them and add effects after shooting.