New Zealander's Nokia explodes
Battery detonation probe launched
Nokia is investigating why a New Zealand man's phone blew up while it was being recharged.
According to national broadcaster One News, Auckland resident Norman Sievewright's handset exploded during Wednesday night. It was by his bedside at the time, and the detonation caused him a "huge fright".
It also left charred marks on his carpet and his handset in blackened pieces.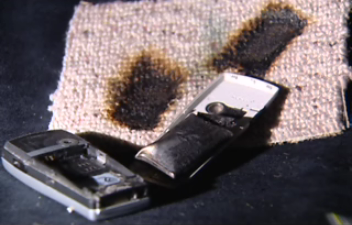 Norman Sievewright's burnt Nokia
Image courtesy One News
"The battery flew out and then maybe there was a secondary little explosion of some sort and it bounced, I guess. That's my suspicion, that it just jumped with the force of an explosion," Sievewright told the channel.
"It was very scary, especially with the fumes," he added.
As yet, it's not known whether the battery was an official Nokia part, or a third-party product. Nokia itself isn't commenting on the cause of the explosion until it has completed its investigation.
In August, Nokia announced a global recall of 46m BL-5C mobile phone batteries made by Matsushita between December 2005 and November 2006.