Trade licks via USB
USB to PC strumming
Rocking out with your guitar has always been a pretty simple affair. Either strum along acoustically, or plug it into an amp for more bass. But, the USB guitar link now lets musicians plug guitars into their PCs to record or manipulate their future number ones.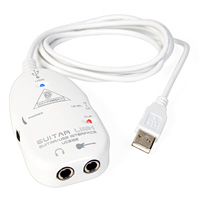 The USB guitar cable: plug one end into your PC and the other into your guitar
The 140cm lead has a USB connection at one end and two jacks at the other, one for mono guitar hook-up and the other for headphone input. It also has a USB LED to indicate its working, a headphone volume control and a level switch/clipping LED indicator.


The connection couldn't be simpler
But if you're wondering what the real benefit of such an interface is, then it's in the software. It allows PC and Mac users to perform a myriad of functions, from simply recording their classic rock ballads to playing along with music stored on a PC. It can also slow down the music speed, if you're finding it hard to keep up.
The software can even create sound effects - without having to buy expensive studio time or put-up with Simon Cowell.
The USB guitar link is available now from Firebox's website for £40 (€60/$80). Rock on!
Sponsored: Detecting cyber attacks as a small to medium business