Sony 'not working on a PlayStation phone', staffer states
Other Sony staffer's commments 'misquoted'
Sony has bitten back at claims that it may be developing a PlayStation mobile phone with Sony Ericsson, stating that a senior staffer who was reported to be hinting as much was "misquoted".
Sony Computer Entertainment's co-COO, Jim Ryan, was this week quoted by India's Economic Times, as saying that convergence between Sony PlayStation and Sony Ericsson's phone range was "definitely plausible" and that it would be "hugely intellectually seductive to have a console-oriented phone".
Except, according to Sony Computer Entertainment Europe spokesfolks cited by website CVG, Ryan was "misquoted".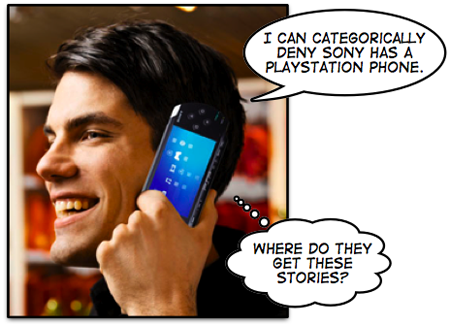 A Sony spokesman told the site: "We do have talks with other arms of the Sony family about various topics but I can confirm we are not currently working together on the creation of a PlayStation Phone."
It might be worth remembering though that Sony has previously poo-poo'd speculation that it was developing a 40GB PS3 - which... er... it was. Similarly, it dismissed claims an 80GB PS3 was in the works as rumour and speculation... right up until the heavyweight hard drive console was launched. And despite the existence of FCC documents to the contrary.
Whether Ryan didn't say what he is reported to have said or the paper drew the wrong conclusion from his words is unclear. Certainly, Sony Ericsson has mined other Sony brandnames - specifically Walkman, Cyber-shot and Bravia - for its handsets, so why not PlayStation too? Ryan clearly reckons such an item - whether it's in the works or not - is a good idea.
So did former Sony Ericsson President Miles Flint, who said as much back in September.
Sponsored: Minds Mastering Machines - Call for papers now open