Pioneer creates iTunes, YouTube rival
Web-based telly
A Pioneer-created TV service will soon enter public testing and allow consumers to download unlimited numbers of TV shows for a monthly fee.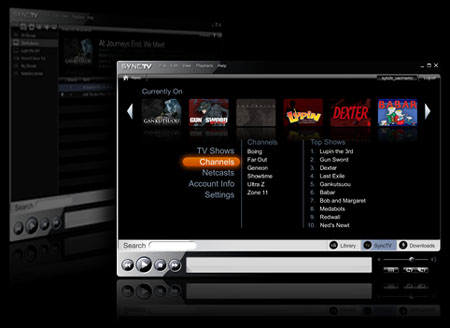 SyncTV: how the service could look
Dubbed SyncTV, the project began inside Pioneer's research labs, and will eventually enable users to subscribe to individual channels for between $2 (£1/€1.50) and $4 (£2/€3) per month, with the option to download episodes individually for an additional fee.
It's not known exactly which TV channels will be available through the service yet, or how may there'll be to choose from, but it's expected that users will get access to every programme broadcast by each channel featured on SyncTV.
The service is currently being put through an internal testing process. But in Janaury, it'll be launched to a select group of public beta-testers.
SyncTV's President, John Gildred, told Reuters that the service will provide "home theater quality" content and a picture resolution as good as DVD, and perhaps even high definition.
Gildred added that downloads will be based on "open standards" and that the company is currently "courting" consumer electronics manufacturers to develop devices capable of playing the standard. He expects such devices to be available in 2008.
Wanna-be guinea pigs can apply to get involved in the test programme through SyncTV's website.