LG models twin-screen phones
Voyager the product of a union twixt iPhone and Nokia Communicator?
LG has shown off Voyager - its take on the classic Nokia Communicator design - and Venus - a touchscreen-based, music-oriented slider phone - both of which it plans to release in the US soon in partnership with Verizon.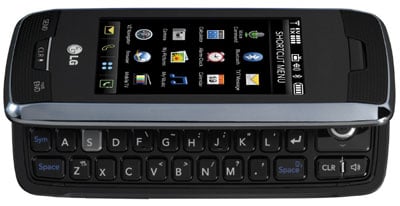 LG's Voyager: iPhone meets Nokia Communicator?
Voyager - aka the LG-VX10000 - sports a 2.8in LCD on its outer casing that's used to present the handsets stylish icon-based UI. If some of the icons look familiar, they should. That's not simply because of Voyager's iPhone-like styling, but many of the phone's icons look a lot like those Mac OS X has used for years.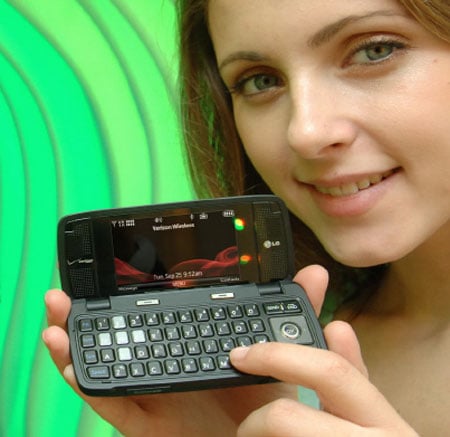 Qwerty keyboard and interior screen too
They're not identical, but it's not hard to imagine Apple getting more than a little hot under the collar about this one.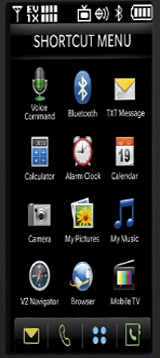 iPhone-esque UI
Unlike the iPhone, the Voyager opens to reveal a Qwerty keyboard, and its touchscreen provides vibratory feedback when you tap icons and menus.
Venus has two screens too, a 1in panel mounted about a 1.49in unit, both on the front of the handset. A bit like the Nintendo DS handheld console, Venus' upper display is used as a display screen while the second panel is touch-sensitive and operates as the handset's primary controller.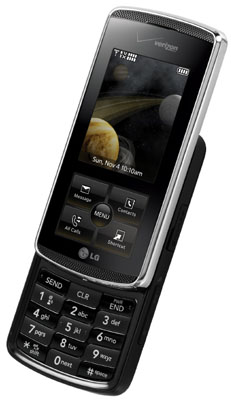 LG's Venus: two screens, one for display, one for controlling the phone
The phone also has a regular numeric pad that slides down.
Venus - model number: LG-VX8800 - is capable of taking Micro SDHC memory cards of up to 8GB capacity, which it uses as its main song storage facility. It'll download songs and videos from Verizon's online content service.
The handet also has a GPS receiver on board, linked to a mapping and navigation service also provided by Verizon.