Shuttle lands Linux SFF PCs in the UK
One for business, a second for pleasure
Shuttle has begun offering British buyers a range of its XPC machines with Linux pre-installed, the small form-factor PC specialist said today.
Shuttle has two XPCs on offer: the SD3002W and the SD300Q2, the former loaded with SuSE Linux Enterprise Desktop 10 SP1 and the second with OpenSuSE. They're pitched, respectively, at business and home buyers.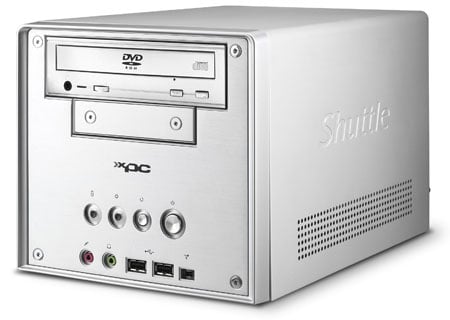 Shuttle's SD3002W: Linux box for business
Both boxes are available with a choice of Intel processors, up to 2GB of 667MHz DDR 2 memory and a variety of SATA hard drive capacities.
Standard system components include Firewire, Gigabit Ethernet, Intel's integrated GMA 950 graphics core, six USB 2.0 ports.
Prices start at €402 (£288) for the SD300Q2 and €436 (£313). Shuttle said they're available immediately from its network of suppliers and direct from the company's website.
Shuttle launched its Linux offerings in April this year, but at that point was only selling the machines to German buyers. In addition to the UK, the Linux initiative now extends to consumers in Austria.
Related reviews
• Shuttle XPC X200M mini PC
• Shuttle XPC SN27P2 small form-factor PC