Orbital tourism industry holds spacewear fashion show
Client base chiefly comprising scantily-clad babes, seemingly
Space crumpet In the airless vacuum of space, fashion choices are limited. But the California Space Authority - an industry body - was having none of that this week, as it hosted a fashion show at its annual conference. Many of the outfits modelled seemed more suitable for somewhere more hospitable than actual space, though perhaps quite warm.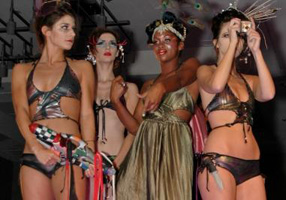 It was so hot in those horrid spacesuits.
"We believe that the question 'What do I wear in space?' will be a very real issue in the extremely near future," said show organiser Randa Milliron, CEO of a Mojave rocket company.
The event was dubbed "Space Style 2007: A Giant Leap for Couture" and the Space Authority set the scene with a suitably torrid press release:
Aerospace engineers and scientists in their suits, winged-tipped shoes and white lab coats mixed with fashion aficionados in their stylistic garments and pastel-colored hair. The punker-set with lip-piercings and black nail polish toasted cocktails with straight-laced rocket scientists in white-collared shirts. Young and old swayed to the psi-trance/industrial music that pulsated through the venue and together they gazed upon the colorfully lit runway flanked by big screens with flashing images of deep space and Mars-like terrains.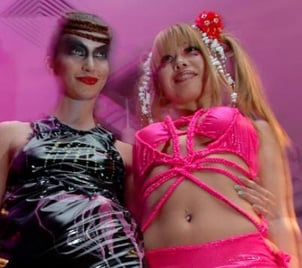 Dress-down Tuesday in the astronaut corps.
There was a zero-G-inspired wedding gown and - get this - "braided up-do's [sic] adorned with shimmering baubles and wispy florals". It says here.
Much use was made, we gather, of non-traditional spacesuit material such as "string, feathers, gartered stockings, wire, platform boots, stilettos, and even newspaper".
Best of all there were plenty of scantily-clad women. The whole business seems to have been rather more Barbarella than Apollo 13. The organisers pretty much admit it:
The... extravaganza featured... chic flight suits, albeit impractical for actual outer-space... The mostly-fitted fashions revealed plenty of skin, unlike the traditional baggy space suits of modern day astronauts. Although not particularly suited for the real-life environment of space, the collections were a melding of the creative and imaginative world of high-fashion with the engineering minds that are soon to bring commercial human spaceflight to the masses.
Opinion among techfashionistas was divided, with Wired magazine's Loretta Hidalgo Whitesides saying:
"All I know is - take me to that planet."
On the other hand, Aviation Week & Space Technology scribe Catherine MacRae Hockmuth poured scorn on the show, commenting:
"Oh. My. If this is the future of space tourism fashion, I'll stay grounded."
More pics here. ®