Iomega eGo 160GB external hard drive
Hard drive meets hip-flask
Review News of this...er, "designer" hard drive first appeared on Register Hardware back in June , and it's the latest product in a growing trend of making once ordinary-looking hard drives a little more interesting – the LaCie Golden Disk is another great example.
The aesthetics alone were always going to spark interest for external hard drive devotees, so when we had the opportunity to see how the Iomega actually performed, we were keen.
The eGo is certainly sleek. The size - 135 x 90 x 20mm at it's widest - its weight - 220g and just general product design are certainly striking. The eGo sports a curvaceous body - available in cherry red, an almost gun-metal blue, black and silver - and finished off with chrome.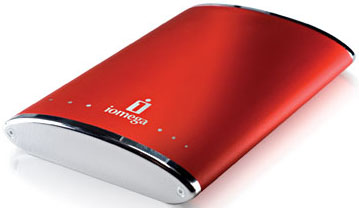 Iomega's eGo: hard drive meets hip-flask
The only ports - a USB connector and a 5V power socket, both alongside a reset switch - hardly spoil the polished chrome finish of the top end.
The 160GB capacity is a nice size for a 2.5in portable drive, and the fact it's USB-powered means you won't have to schlep a spine-crippling power brick around with you in your man-bag. The cable sprouts a secondary, USB plug that slots into your laptop just in case the primary doesn't provide enough power.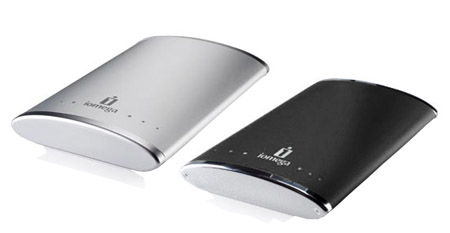 Available in silver and black...
The eGo includes a free licence for EMC's Retrospect Express HD (Windows only) back-up software, which can be downloaded from Iomega's website and installed using the serial number supplied with the hard drive itself.