Instant messaging without a PC
Network connection not included
If the thought of booting up your PC to send instant messages (IM) is too exhausting, how does the a dedicated IM handheld strike you? US-based Zipit Wireless has launched exactly that, and it's called the Z2.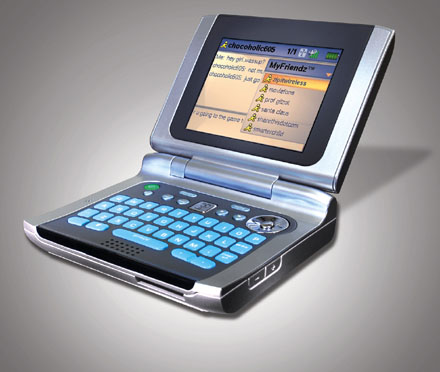 Zipit's Z2: IM without a computer
Although it measures about 95 x 76 x 23mm and looks like a shrunken laptop, the Z2 can connect to wireless hotspots over 802.11b/g Wi-Fi and allows users to conduct virtual conversations over AOL, Yahoo or MSN.
The unit is Zipit's second attempt at cracking the IM market and, although the Z2 appears largely technically unchanged from the earlier Zipit Wireless Messenger model, it now incorporates a 2.8in colour LCD display. Its Qwerty keyboard has also been redesigned and is now backlit .
A Micro SD card slot is built-in to let users display photos. Or it can be used to store music, played through the Z2's built-in speaker or headphone jack. Alternatively, music can also be streamed to the unit thanks to the Z2's wireless connectivity.
The Z2 is available now in the US for $150 (£75/€94), but it doesn't look as if is shipping to Europe just yet.