Music in China: The Inside Story
Behind the Great Wall of sound
Behind The Great Firewall
The government is very protective of its airwaves and rules its own network of regional licensee stations with a rod of iron, both in broadcast policy and physical presence. The live studios are frequently under armed guard for fear of them being stormed by subversives. The same applies for TV as the Chinese government are acutely aware that broadcast media is the most effective medium for delivering key cultural and political messages. China Central Television (CCTV), the state-run national station operates a range of channels, which, in the main part, are barefaced propaganda and state trumpet-blowing. Their large scale, televised music galas showcase traditional and government approved music forms and are regularly watched by audiences in the hundreds of millions. These are the kind of viewing figures that excite people about China, but in reality the shows are impregnable fortresses of glittery, spandex-clad state guff.
When Pop Idol imitator SuperGirl hit China in 2004, the final was watched by 400 million people. The rush of mobile votes sent the government into a panic and severe restrictions were implemented, preventing the show ever happening in the same format again. The idea of a democratically decided pop show proved too much for a one-party state to countenance.
So for international music marketeers there is a limited spread of outlets through which to promote artists. This is especially true when you consider that music coverage is based more on cold hard cash than on merit. You could turn up to one of the few music-specific TV channels like Newscorp's Channel V or MTV (which has a minute presence in China) with the best pop video in the world looking for airplay, but the response is likely to be "What's in it for us?". In this sort of climate – where media needs to be bought – the returns simply do not justify a label allocating a significant marketing (or coverage) budget to "break" niche foreign artists. They generally rely on larger artists' spill-over publicity from the west.
Routing around the censors
As in the rest of the world, the internet is changing everything. Where broadcast media and press are government owned or heavily government-monitored, the internet is seen as a more effective way of promoting releases, with freedoms and readership figures that make printed press almost insignificant.
It's actually possible to find niche audiences and interact with them effectively on bustling chat boards and blogs. While the internet is reportedly monitored by 30,000 "internet police", the sheer volume of activity means that smaller, non-threatening outfits can operate in a relatively uncensored capacity.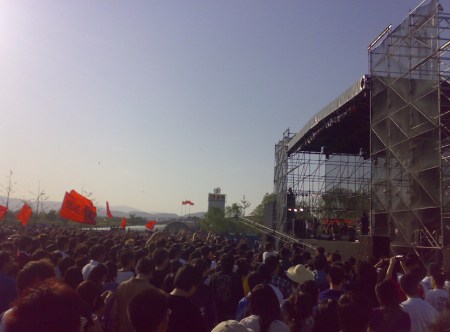 Main stage at Midi Festival, Haidian Park, Beijing, May 2007
The problem is that niche online audiences are very niche indeed. Genre awareness is perhaps one of the biggest spokes in the wheels of music development in China. It is possible to find all major genres – as well as a great deal of sub-genres – represented in tiny fan-groups online. However, the elaborate categorisation of music we seem to so enjoy in the west is the preserve of only a few music obsessives in China. While Converse trainers and drainpipe jeans might make your average Chinese high street hep-cat seem like an alternative cognoscenti, the chances are that understanding is lacking and there is very little consistency between any two elements of their identity, including music preference. Whilst hanging at the bar in Beijing underground live venue D-22, I noticed a Chinese girl next to me with crazy hair, blackened eyes, torn clothes and black fingernails. I got talking to her and asked her what kind of music she listened to. "Backstreet Boys," was her immediate reply.
The kind of deeper involvement with a genre that would mean a goth could never admit to liking the Backstreet Boys is noticeably absent here. This girl is just as likely (or unlikely) to go out and download an Aaron Carter track as she is a Lacrimosa one. Music online is rarely searched out or bought according to genre. In fact, not only is your average MP3 not sold as part of a genre, it is also almost certainly pirated, completely DRM-free, with no meta data attached and, in a huge number of cases, doesn't even have a file title. You are left with a completely 'naked' piece of audio. China simply never went through the age where music was bought at a premium on vinyl, cassette or CD, then lovingly horded, categorised and put on display for all your dinner party guests to see, encouraging in-depth dinner discussions about prog-rock or jazz.
Today's China sees single-track, naked MP3s being Bluetoothed, file-shared, emailed, flash-disked, hard-drive-dumped and herded around the digital sphere in complete anonymity. Targeting potential listeners for your band in this scramble of a market is incredibly difficult because, in a great deal of cases, even your potential listener doesn't know what he or she is listening to.
Sponsored: Webcast: Build the next generation of your business in the public cloud