Asus intros 'quietest' HD DVD drive
Sssshhh...
Asus has launched an add-in HD DVD drive for PCs, pitching the product as a quietest of its kind - handy for folk building living-room systems.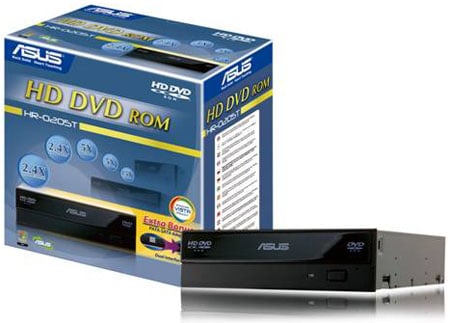 Asus' HR-0205T: Ssshhh...
The HR-0205T is a read-only unit that can handled single- and dual-layer HD DVD media, and single-layer HD DVD-R discs, all at 2.4x. It'll also read all the many DVD formats at 5x and CD media at 15x.
Unsatisfied with the drive's inability to burn discs? Then Asus offered the fact that it emits just 21.1dB of noise when playing HD DVDs, though it goes up to 23.7dB when it's spinning a dual-layer DVD. For comparison, both are less than a typical notebook hard drive's operational 26dB.
Asus said the HR-0205T can be mounted horizontally or vertically. The drive connects to a parallel ATA port, but an PATA-SATA adaptor allows it to be hooked up to the more up to date, serial bus.
There's no word yet on pricing.