HD DVD backer Toshiba has unveiled a digital video recorder (DVR) that can archive HD broadcasts onto standard DVD discs.
The Vardia RD-A301 uses an HD transcoder to convert HD broadcasts from their native MPEG 2 format into MPEG 4 AVC. Toshiba claims its transcoder compresses the HD video enough for it to be burnt onto a 4.7GB DVD-R – whilst retaining the broadcast picture quality.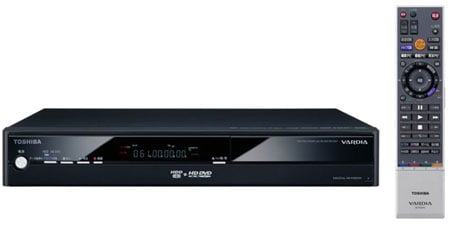 Toshiba's Vardia RD-A301: records HD broadcasts onto HD DVD discs
Toshiba said that two hours of HD video could be recorded onto a single-layer DVD - a 15-minute job using the Vardia's 8x burner.
Unfortunately, because the likes of Sky have most HD broadcasts, including BBC content, tied to its own DVR devices, using the RD-A301 in the UK could be tricky.
However, the unit also includes a 300GB hard drive and supports playback of a range of HD DVD and DVD discs, including HD DVD-R and DVD-RW respectively. On the flipside, it'll also record to HD DVD-R and DVD-RW discs.
The RD-A301's single HDMI output port supports HD resolutions up to and including 1080i.
Its probably no coincidence that Toshiba's also throwing in a free HD DVD copy of Transformers too, because the film's distributor Paramount Home Entertainment recently hailed the movie as an HD DVD sales phenomenon.
The Vardia RD-A301 will be available in Japan from the middle of December, but a price hasn't been released yet. Its not known if the device will appear in Europe.
Sponsored: How to simplify data protection on Amazon Web Services