How to escape the clutches of world+dog's VMware fetish
Also, Diane Greene considers the meaning of life
Early Slicer
VMware deserves tremendous credit for tuning in to the need for virtualization software on x86 gear so early. Greene's husband Mendel Rosenblum and partners at Stanford University began working many years ago on shifting IBM's server slicing techniques to commodity hardware. A post-bubble slowdown in technology spending created the first mainstream interest in VMware's code. And now we find the company capitalizing on the beefy chips pumped out by Intel and AMD.
The lead VMware established with x86 virtualization software drives the endless adoration for the company.
VMware has more or less doubled revenue every year of its existence. That was cute when it made a few million. It's astonishing now that VMware brings in $350m per quarter.
This meteoric rise in revenue has left the rest of the virtualization market looking foolish. Microsoft, for example, still claims it hasn't missed the virtualization party because the market is so young.
"Wouldn't you say that if you were them?" Greene said.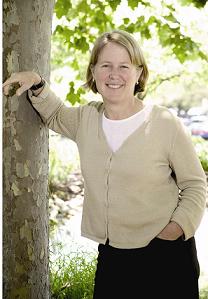 VMware CEO Diane Greene not on a boat
Well, sure, but Microsoft can charge in with Windows Server 2008 and slap a hypervisor on a huge chunk of hardware before VMware even has a chance to pick up the phone.
"We are pretty well partnered with the hardware vendors," Greene said. "It's hard to run virtualization without a server."
To Greene's point, VMware has already struck deals with HP, IBM and Dell to have its new ESX 3i hypervisor go out the door with select server models. Not surprisingly, Greene expects the vendors to one day offer an embedded hypervisor on just about every system they sell.
"If you have a virtual infrastructure or a VMware infrastructure and you get a server that's virtualization enabled, you just plug that thing in and automatically all of the loads get rebalanced to take advantage of that. Automatically all of the clustering is their to failover to if it needs it. The power management. Everything just works. It's plug-and-play.
"We are virtualizing the hardware. That's the right way for it to come. I believe that generally when something is that right it happens."
The Irrational Stuff
Isn't that the one major lingering question about VMware? How right is it?
Wall Street appears to be judging this question in both rational and irrational ways.
VMware is on pace to churn out more than $1bn in annual sales at a quicker clip than giants such as Microsoft and Oracle. The analysts see this and pump VMware's share price up to reflect where they think sales will be in a couple of years. That's the quasi-rational part.
At the same time, the investment houses are dealing with a market that's largely lackluster except for a handful of wonder stocks - Apple and Salesforce come to mind. Our friends on Wall Street say they're being pressured to buy more and more of VMware because they don't want to fall behind rivals. The only way to make big gains in this market is to ride these select out-performers. This is a practical approach for gun-to-your-head professional investors but an irrational, unsustainable trend for the market as a whole.
As a result, you end up with VMware claiming a market cap of $47.5bn, and EMC, which owns 86 per cent of VMware, claiming a market cap of $53bn.
Last month, EMC's market cap sat at $43bn. As anyone can tell, VMware is directly responsible for EMC's recent growth. The company's share price had languished around $13 before VMware's sex charged IPO. Now EMC trades at $25 per share.
EMC's ownership of VMware has always proved uncomfortable for the likes of HP, IBM and Dell (a close EMC partner). These companies fight with EMC for storage sales and see EMC encroaching on their server software turf as well through a number of acquisitions.
"The relationship is continuing like it always has because we were always an independent subsidiary," Greene said. "We are more independent now. It really is pretty much business as usual. They never sold our product. They never set our strategy."
Sponsored: Detecting cyber attacks as a small to medium business