Pentax Optio Z10 digital camera
Perfect Pentax - or Optio gone awry?
Review Talk about too much choice: we're drowning in digital cameras. These days, everyone, their tennis partner and their dog seem to be launching an eight-megapixel compact with a large screen. So, in this over-crowded environment can Pentax's Optio Z10 stand out from the crowd?
Ever heard the expression 'little things can make a big impression'? Well, that's what occurred to us as we unpacked the Z10. Out of the box came the camera, battery charger, connecting leads, software disc – and a printed manual. Now, the latter might not seem like such a big deal to those of you who don't believe in reading instructions, but for many people it is.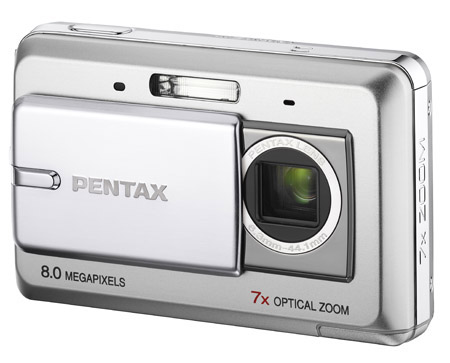 Pentax Optio Z10: a camera we wanted to like
The fact that Pentax offers users both a full paper manual and a PDF version on disc tells us that this is a company that thinks about its customers, because there's nothing worse than trying to get to grips with a new camera while scrolling through endless pages on a PC screen. Pentax also supplies ACDSee photo management software, a nice touch.
So, right from the start, we had positive feelings about this camera - it was a camera we wanted to like. Its sleek, silver, compact body is attractive to the eye. At 25.3mm thick, it's not exactly skinny, but it's nonetheless eminently pocketable.
Around the back is a 2.5in LCD screen, zoom button and a four-way rocker controller. There's also a green button, which has nothing to do with being environmentally-friendly, but reverts the Z10 back to the standard settings. This is handy if, say, you've set the camera to shoot in movie mode, and then suddenly decide to take a still image. Instead of fiddling around with the menu settings, you just press the green button.
Underneath the Z10's casing are SD/SDHC memory card and battery slots, and at the side, ports for PC/AV connection and power. The Z10 uses a lithium-ion battery, which Pentax says is good for around 210 shots using the flash for roughly half of the time, and we had no problems taking lots of shots and shooting movies on a single charge.
The Z10 has a CCD with an effective eight megapixels, a 7x optical zoom equivalent to 38-266mm in 35mm format, and a 5.1x digital zoom offering up to 35.7x magnification. A nice touch is 52MB of internal memory, which can hold up to 13 8Mp images at the highest quality setting. OK, it's not a lot, but reduce the picture quality to 5MB and you can store up to 40 good quality images without so much as a memory card.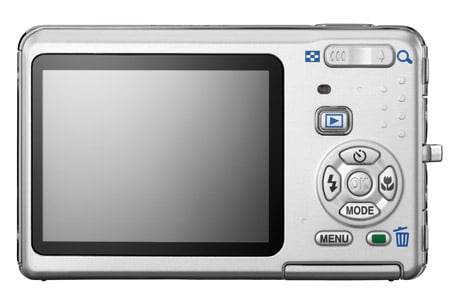 Messed up your settings? Press the green button to get the right ones back
Switching on the Z10 simply involves sliding the lens cover. It takes around four seconds for the Z10 to power up and be ready for action. Shutter response time is reasonably quick.