Tool opens iPhone, iPod Touch via web
Look, ma, no PC/Mac
iPhone hackers have released a tool that allows owners of firmware 1.1.1 iPhones and iPod Touches to open up their devices to third-party apps - all without the need for a host Mac or PC.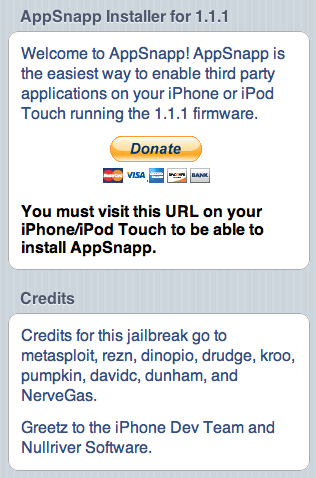 AppSnapp in action
The utility's called AppSnapp, and it's launched via the devices' Safari web browser. The code uses a known vulnerability with firmware 1.1.1, which it subsequently patches. Before doing so, it activates iPhones, jalbreaks both types of device to allow third-party apps to run, installs Installer, and allows the YouTube app to connect on non-AT&T iPhones.
What it won't do is unlock an AT&T-only iPhone to allow the handset to be used with other networks. For that, the nine hackers behind AppSnapp suggest downloading and running AnySim 1.1 after you've used AppSnapp.
We'd point out that AnySim 1.1 is designed for iPhones that have not yet been unlocked in any way, so shouldn't be run on firmware 1.0.2 handsets that have been previously unlocked.
Early reports suggest that AppSnapp does exactly what it claims, though the process may take a little time due to the number of users grabbing the code off the AppSnapp web site, jailbreakme.com.
Sponsored: Becoming a Pragmatic Security Leader